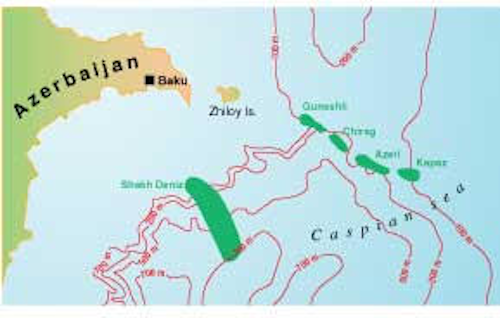 Ocean circulation
The Offshore Drilling Program (ODP) continues to contribute significantly to the understanding of the Earth's history. Recently completed ODP Leg 199 drilled through Eocene sediments at eight sites approximately halfway between Hawaii and Mexico, a region that was near the Eocene equator when the sediments were deposited. The sediments hold evidence of a change in ocean circulation during a time of change from a warm climate to the cooler Oligocene period when significant Antarctic glaciation began.
During the Eocene, the circulation system was very broad, leaving a record of low plankton productivity, primarily radiolaria silica tests. This shifted in the Oligocene to calcium carbonate-based plankton, demonstrating a significant shift in nutrients and seawater circulation. The Pacific's ocean biological system became focused at the equator in a pattern similar to today's circulation.
Reviewing the report, it is striking how tectonic action can create a change in ocean basin circulation. "I think that tectonics is the ultimate cause of the change," said Mitch Lyle, a researcher from Boise State University and one of the co-chiefs of Leg 199, "but tectonics cannot explain such a rapid shift in circulation. Opening ocean gateways like the one between Australia and Antarctica (which happened roughly coincidentally) or uplifting mountain ranges take significant amounts of time, at least 5 to 10 million years. As these processes slowly proceed, it appears that climate conditions also slowly change until important thresholds are reached that can knock ocean and atmospheric circulation into another pattern. Once the threshold is crossed it is hard to return to the original state.
"We have some evidence that the climate did a smaller, but similar flip to the Eocene-Oligocene boundary at about 40-41 million years ago (middle Eocene), but could only sustain this state for about a million years. Interestingly, this is a period when glaciers may have also briefly appeared on Antarctica.
"Our current hypothesis is that tectonics provided the gradient in conditions that ultimately led to relatively sudden appearance of glaciers on Antarctica. The glaciation of Antarctica led to a reorganization of equatorial Pacific circulation through some climate teleconnection. Once glaciers become firmly established in Antarctica, conditions in the equatorial Pacific begin to resemble those of the modern ocean."
One of the benefits of continued ODP drilling is the chronostratigraphic linking of the world's ocean basins. This in turn produces the time-sediment framework that allows isolated exploration drilling to be fitted into the wider structural history of ocean basins, and so help locate more petroleum resources to support the global economy.
Contourites
Most of the new offshore petroleum reserves are being found in sand deposits, usually deepwater channel bodies or fans of various types. These concepts build on earlier deltaic models and the sediment-cycle work of Bouma and others. It is important to remember that there are granular deposits in the oceans other than downslope, gravity-shifted, and turbulent flow-winnowed deposits.
Ocean currents provide significant energy to winnow granular material entering the ocean basins. Cyclonic storms and major wave trains also provide energy to move bottom sediments and create future reservoir quality rocks.
Usually these features, contourites, are on the slope at deposition, similar to barrier islands close to the coast. Such deposits also occur at depth off the shelf where deep currents winnow the sediments that pour out of slope channel valleys.
Downslope sediment cascades can dump major quantities of sediment containing all grain sizes into the deep basins. It is only the deep, ocean-stirring currents that can winnow them into quality reservoirs and distribute them into long, thin contourite bodies. A knowledge of past ocean circulation patterns and deep current location will help explorers find and tap the potential of these granular reservoirs.
Caspian survey
Caspian Geophysical announced that BP has awarded the company a marine seismic services contract in the Azerbaijan sector of the Caspian Sea. Under the contract, Caspian Geophysical will supply towed streamer and 3D-4C seismic services within BP-operated PSA areas.
The 4C surveys will provide additional subsurface information around gas-invaded sediments near mud volcanoes prior to field development. Surveys are scheduled to commence early in 2002 and continue into 2003.
---
TECHNOLOGY
null
New capacity
Compagnie Générale de Géophysique (CGG) installed 100 terabytes (TB) of MetaStor® E4600 storage from LSI Logic Storage Systems as part of Europe's first two-gigabit-per-second Fibre Channel SAN. Four systems were added to CGG's existing 20 TBs of storage at its EMEA operations center in Redhill, UK.
The upgrade is part of a major CGG resource consolidation program to improve efficiency in processing seismic data. The new hierarchical storage management system now stores data directly to disks, eliminating tape storage and retrieval.
Satellite services
COMSAT Mobile Communications (CMC) launched Mobile Packet Data Service (MPDS), a mobile satellite data service. MPDS provides remote users with Internet protocol (IP) capability over satellite. CMC claims the new service will provide portable, reliable communications for Internet applications such as Web access, file transfer, and e-mail. Contact Tom Surface at Tel: +301 214 3419 or Email: thomas.surface@lmco.com.