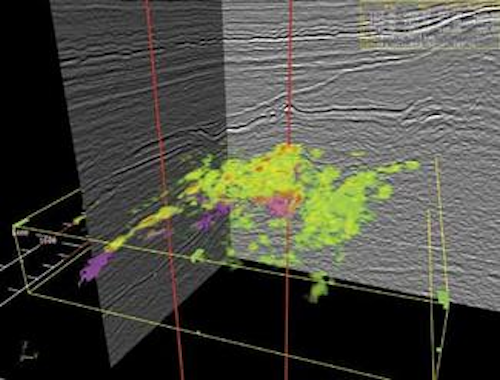 The Kidra visualization center in Stavanger, which opened just over a year ago, provides a valuable new resource for the oil industry and others in Norway. Kidra's core business is the application of visual-ization technology. For oil companies, it offers consulting products such as seismic data inter-pretation and sub-surface 3D imaging.
These products have been developed in partnership with vendors of software and services. A partnership with Magic Earth enables Kidra experts to provide effective work processes for clients in the oil industry, while the partnership with Foster Finlay (ffA) provides opportunity for 3D subsurface imaging resulting in better reservoir understanding.
Customers do not have to come to Kidra's facility at Rogaland Science Park. By means of distributed visualization, the service can be delivered to them in their own offices. This is possible partly due to Rogaland, the western Norwegian county of which Stavanger is the capital, boasting one of the most extensive, high-bandwidth fiber-optic communications networks in the world.
Kidra's focus is on high-end knowledge and technology, according to CEO Geir Kristian Pedersen. In part this is achieved through the application of an immense amount of computing power, dominated by a Silicon Graphics Onyx 3400 super-computer. The hardware also includes two displays: A curved screen, 7-meters wide and 2.4-meters high for immersion purposes, and a flat screen of 4.5-meters by 2.2-meters.
Kidra has agreements with software vendors such as Landmark, Magic Earth, Geoquest, Roxar and ffA allowing customers to use their programs on a pay-per-use basis. Some of the company's owners, ABB Robotics, Hitec O, and Song Networks, have also provided technology relevant to the visualization operation.
Another key partner and part-owner is Petrodata, which also manages Petrobank, Norway's oil and gas geological database. The two companies can set up and work with a geological supergrid integrating several seismic surveys and containing a much larger amount of data than would otherwise be available. Despite the large area covered, screening for prospects can be carried out rapidly using Magic Earth's Geoprobe tool. This facility makes for rapid seismic interpretation, cutting the time spent on such projects by more than half, according to Pedersen.
Kidra has worked for most of the oil companies based in Rogaland, and the feedback has been positive. Most recently it collaborated with three oil companies on seismic interpretation work related to the 17th licensing round involving acreage in the Norwegian Sea.