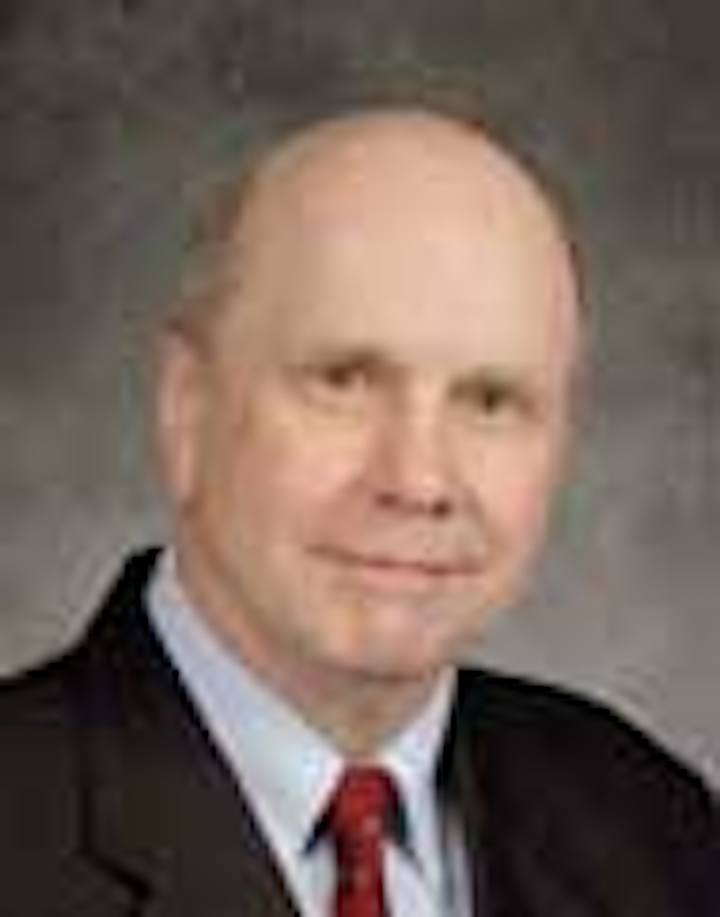 | | | |
| --- | --- | --- |
| | | Gene Kliewer • Houston |
Geophysical company news
Petroleum Geo-Services has entered into a sale and leaseback agreement of PGS Apollo, the only non-Ramform designed 3D vessel in the PGS fleet. The sale and leaseback agreement is between PGS and Offshore Merchant Partners on a 10-year bareboat charter, with an option for a five-year extension at a reduced rate. PGS has the option to acquire the vessel after end of year five or year eight.
FairfieldNodal has sold 4,000 Z100 nodes to an unnamed geophysical company. FairfieldNodal has designed this new nodal system for 4C data acquisition in transition zones, where it provides continuous recording for up to 30 days at depths from 0 to 300 m (985 ft). The nodes can be used with any land and marine acquisition systems for seamless data integration from land to deeper waters.
TGS has a letter of intent to acquire Polarcus' multi-client library, with the exception of Australia, for $27.5 million, subject to due diligence and a final definitive agreement. Polarcus will share in revenues generated from the library after TGS reaches an established return on its initial investment. The multi-client library in northwest Europe and West Africa consists of 22 3D seismic surveys comprising a total area of 40,000 sq km (15,444 sq mi) and one 2D survey comprising 5,000 linear km (3,107 mi). The data covers locations within established hydrocarbon provinces of six countries along the western Atlantic margin corridor.
PGS, Spectrum, and Schlumberger have agreed to cooperate to acquire 80,000 to 100,000 km (49,710 to 62,137 mi) of long-offset 2D data in the major hydrocarbon provinces offshore Mexico. The areas to be covered include those on offer in Round 1 leasing such as the Perdido fold belt, Mexican ridges province, Campeche deep-sea basin, and also will seamlessly connect with coverage across the Yucatan platform tying to Spectrum's Big Wave program in the eastern area of the US Gulf of Mexico.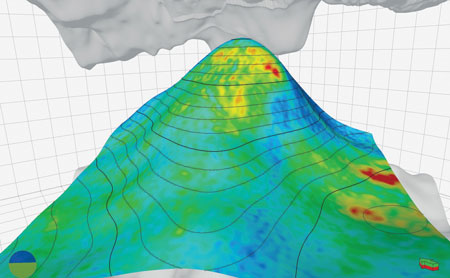 Schlumberger has established Depth Domain Inversion Services for seismic structural and quantitative interpretation in complex environments. Seismic inversion in the depth domain integrates the inversion with the imaging products to better estimate rock properties for reservoir characterization by correcting for depth space and dip dependent illumination effects during seismic amplitude inversion directly in the depth domain. Schlumberger said the service is particularly useful in complex areas such as subsalt, and that it has proven successful in the Green Canyon area of the US Gulf of Mexico. (Illustration courtesy Schlumberger)
Offshore surveys, plans, and processing
CGG completed in record time the fasttrack results for a 1,748-sq km (675-sq mi) BroadSeis 3D marine acquisition and depth imaging project for a large international oil company. Nine days after the last shot point, CGG delivered pre-stack depth migration volumes using Kirchhoff and Reverse Time Migration. The fasttrack BroadSeis volume was successfully processed through deghosting, 3D demultiple, tomography, salt model building, and PSDM.
Egypt's state-ownedEGAS plans to conduct the largest seismic oil and gas exploration project in the Mediterranean. EGAS said it has signed a deal with Norwegian seismic surveyor PGS to conduct 2D and 3D data in the western zone of Egypt's territorial Mediterranean waters.
TGS plans a multi-client 3D survey offshore eastern Canada to acquire 6,000 sq km (2,317 sq mi) of seismic data in partnership with PGS. The survey will apply the PGS GeoStreamer technology in two areas; Eastern Newfoundland Orphan basin and South Labrador. Data acquisition is to start this summer. Pre-processing of the initial GeoStreamer signal will be performed by PGS following which TGS will perform data processing with final data available to clients in mid-2016.
TGS in partnership with PGS also has two multi-client 2D surveys offshore eastern Canada, with plans to acquire a total of about 30,000 km (18,641 mi) of seismic data. TheM/V Atlantic Explorerwill use GeoStreamer technology, will acquire approximately 18,000 km (11,185 mi) of seismic data in the southeast Grand Banks. The M/V Sanco Spirit, also with PGS GeoStreamers, will acquire approximately 12,000 km (7,456 mi) of seismic in the south Labrador, northeastern, and eastern Newfoundland area. Pre-processing will be by PGS followed by TGS data processing with final data available in 3Q 2016. •
US BOEM, state geologists to share OCS information
The US Bureau of Ocean Energy Management (BOEM) and the Association of American State Geologists (AASG) have agreed to foster interaction, cooperation, and coordination on marine minerals and oil and gas resources on the outer continental shelf.
Under the memorandum of understanding, BOEM's Office of Strategic Resources may provide information to the association on appropriate BOEM permitting, research and planning activities for informal review and comment by the affected states. The AASG, through individual state geological surveys, may provide information to BOEM on appropriate state projects for informal review and comment. The purpose of these reviews is to foster mutually beneficial interaction, to increase opportunities for cooperative BOEM/state geological survey activities, and to minimize conflict and misunderstanding.
"On behalf of the Association of American State Geologists, we welcome the enactment of this MOU ... to ensure the continuation of information sharing between our nation's state geological surveys and our federal colleagues," said AASG President Jonathan Arthur. "This MOU will serve us well as we work on items of mutual interest that affect the development and protection of our nation's diverse coastal resources."