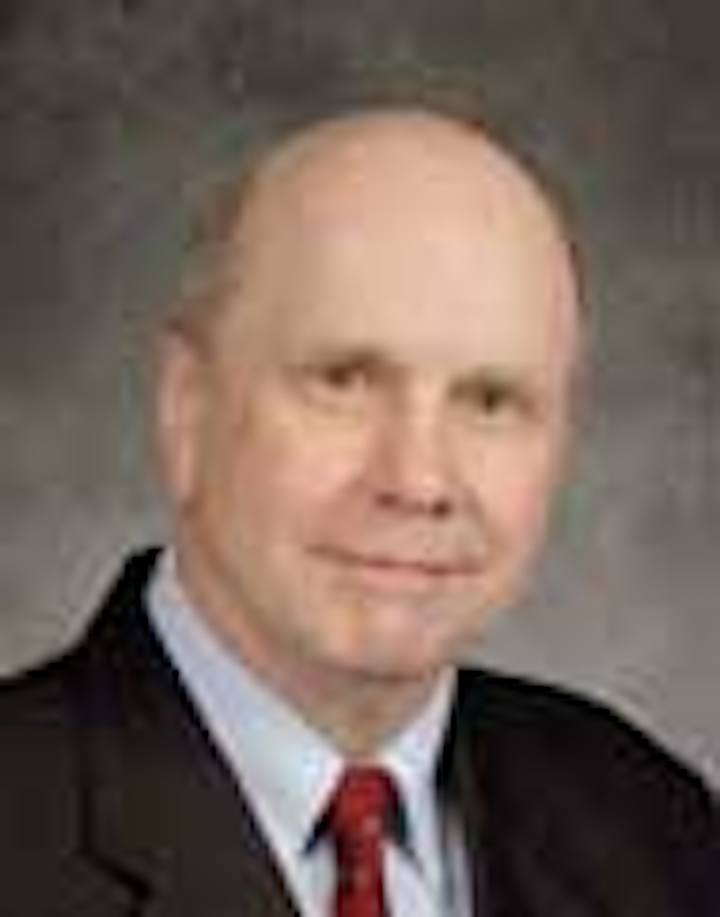 | | | |
| --- | --- | --- |
| | | Gene Kliewer • Houston |
Searcher Seismic and project partner BGP have announced the 2015 GroupSeis campaign over the North West Shelf, Western Australia. The campaign includes the acquisition of three individual broadband seismic surveys with further additions being negotiated for the final 2015 time slots. The current surveys include the 437-sq km (169-sq mi) Quoll 3D seismic survey in the Bonaparte basin, the 500-km (311-mi) Dunnart 2D seismic survey (which includes coverage of the Jansz gas discovery), and the 146-sq km (56-sq mi) Numbat 3D seismic survey, both of which are in the Carnarvon basin.
Dolphin Group ASA has won a 3D seismic contract including fasttrack data processing by an undisclosed major oil company for a project offshore Africa. A Dolphin high-capacity 3D vessel will commence operation on the three- to four-month project during 2Q 2015.
BGP Arabia Co. Ltd. has contracted Magseis for a pilot survey for Saudi Aramco in the Red Sea.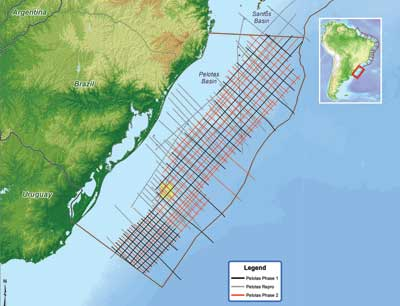 Spectrum has commenced a 12,000-km (7,456-mi) multi-client 2D seismic survey offshore Brazil's Pelotas basin. The new acquisition program will infill both of Spectrum's 7,500-km (4,660-mi) survey acquired in 2013 and 12,000 km of data reprocessed in 2014. It is anticipated that the area will be included in the next licensing round, expected in late 2015. The data is being collected by the vessel BGP Challenger and will be processed in Spectrum's processing center in Houston. PreSTM and PreSDM data will be available in 3Q 2015. Spectrum says analysis of the existing open seismic grid in the Pelotas basin reveals details on the depositional systems. Numerous extensive clastic units are identified with good trapping and reservoir potential. This is combined with evidence of direct hydrocarbon indicators and seeps. (Photo courtesy Spectrum)
Exploration results
Petrobras has confirmed that its Sergipe basin Farfan appraisal well has encountered a new, shallower 68-m (223-ft) thick light oil bearing reservoir. Broadband processing and AVO analysis indicates potential at shallower depths where broadband processing can help image these oil bearing reservoirs and extrapolate the play throughout the basin in combination with available AVO studies.
Elsewhere offshore Brazil, Spectrum has reprocessed long offset 2D taken in the Sergipe basin. The data was processed through both conventional and broadband techniques including proprietary pre-migration deghosting and post-migration/post-stack bandwidth extension phases which enhanced the imaging. The application of these two technologies has resulted in seismic data with a vertical resolution as fine as 5 m to 10 m (16 ft to 33 ft).
KrisEnergy Ltd. says the Binh Minh 2 vessel has completed a 3,146-km (1,955-mi) 2D seismic acquisition program in the SS-11 exploration block offshore Bangladesh. The 22-day program was conducted by CGG Services SA. Block SS-11 covers 4,475 sq km (1,728 sq mi) in the Bay of Bengal over the Bengal Fan. The majority of the block lies in shallow waters of up to 200 m (656 ft). It will also help fix locations for a planned 3D seismic program. Santos Sangu Field Ltd. is the operator of SS-11 with 45%. KrisEnergy (Asia) Ltd., a wholly-owned subsidiary of the KrisEnergy group of companies, holds 45% and Bangladesh Petroleum Exploration & Production Co. Ltd. has a 10% working interest.
INPEX Norge AS has selected subsurface consultancy First Geo to provide exploration teams and services for exploration on the Norwegian continental shelf (NCS). First Geo – part of Oslo-listed Akastor ASA – will provide full exploration teams and data hosting services for INPEX Norge AS. First Geo's geologists will be based at INPEX's office in Oslo, Norway, and provide seismic interpretation services and support to the company's in-house exploration team. The contrct runs to the end of 2015. First Geo has developed its own data center for interpretation of seismic data, geology and reservoir modeling. The company provides geological and geophysical interpretation, petrophysics, reservoir modeling and simulation, petroleum engineering, and wellsite geology services. It also conducts regional hydrocarbon prospectivity studies and offers a complete earth velocity model for seismic depth conversion without disruptions. (Photo courtesy First Geo)
Exploration license activity
Tullow Oil says the Greenland authorities have granted a two-year extension to offshore block 9 (Tooq license), in which the company has a 40% interest. 3D seismic has led to identification of a potentially material oil prospect. The extension means a drill-or-drop decision for the license has now been deferred until December 2016.
Japan Oil, Gas and Metals National Corp. (JOGMEC) will provide equity financing to INPEX Offshore North West Sabah for deepwater block S offshore Sabah, Malaysia. The JOGMEC funding will cover as much as 50% of INPEX's exploration spending on the project. INPEX is the operator with 50% participating interest. Santos Sabah Block S Ltd. holds 25% and Petronas Carigali Sdn Bhd holds the remaining 25%.
Mitsui Oil Exploration Co. Ltd. has succeeded in a joint bid in the Myanmar Offshore Bidding Round 2013 for three deepwater blocks located offshore Myanmar, namely blocks AD-9, AD-11, and MD-5. MOECO will assume a 10% participating interest in each block and subsidiaries of MOECO and Shell have signed production-sharing contracts with the Myanmar Oil and Gas Enterprise to formalize these bid wins. Block participation in block AD-9 is Shell Myanmar Energy Pte. Ltd. as operator with 90%, MOECO Oil & Gas Asia Pte Ltd. holds 10%. The same division holds for the other two blocks as well.