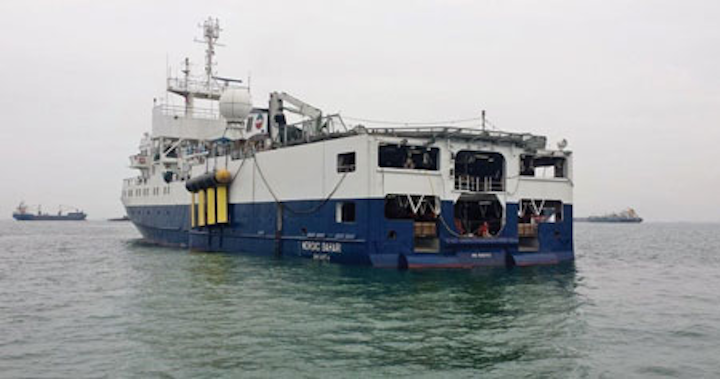 Gene Kliewer • Houston
Asia/Pacific
PT Bahari Lines, in partnership with Nordic Geo Services Ltd., have won contracts to conduct two 2D offshore seismic data acquisition and processing programs offshore Indonesia.
The first program is for Total Indonesia and consists of 3,000 line km (1,864 mi). The second is for PSG, a local government company, covering 1,600 line km (994 mi).
The partners will use theNordic Bahari with support from the newbuildNordic Barakuda and Nordic Emma. The first project is off West Papua and the second is off West Sumatra.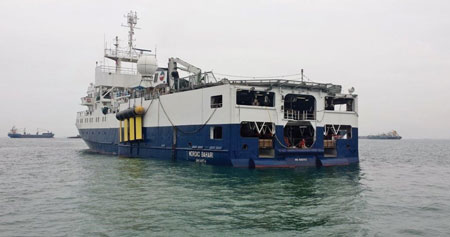 The PT Bahari and Nordic Geo Services partnership will conduct a pair of seismic data acquisition surveys offshore Indonesia using theNordic Bahari. (Courtesy Nordic Geo Services)
Also in the Asia/Pacific, Electromagnetic Geoservices ASA has received a letter of award for a $4.2-million contract from an unidentified oil company for 3D EM data acquisition over an operated area in Malaysia.
The two parties have entered into a two-year contract, of which this LOA constitutes the commitment for the first and initial phase. The parties have also designed a survey for an optional second phase in 2016.
The survey will be done using the vesselBOA Thalassa.
Polarcus Ltd. has a letter of award from Shell Myanmar Energy for a 3D marine seismic project offshore Myanmar. The project is currently expected to start in 4Q 2015.
Africa
Spectrum ASA entered into a multi-client master cooperation agreement with the federal government of Somalia.
The agreement allows Spectrum to acquire approximately 28,000 km (17,398 mi) of long-offset 2D seismic data offshore south Somalia. The new acquisition has been specifically designed to complement 20,000 km (12,427 mi) of existing seismic data acquired in 2014. Spectrum has also been granted the marketing rights for this data.
Middle East
BGP is doing an interesting project for Kuwait Oil Co. The 3D survey covers areas ranging from Kuwait city to Kuwait Bay and includes both shallow and deepwater areas.
Offshore Abu Dhabi, CGG, and the Seabed Solutions/Fugro joint venture have completed acquisition of a 3D seismic survey at the Hail and Shuweihat oil and gas fields. The work in the environmentally sensitive area covered 1,200 sq km (463 sq mi), starting with 600 sq km (232 sq mi) that included the shallow water Merawah natural reserve. The remainder of the survey covered offshore and onshore portions of Shuweihat field.
Following that, ADNOC awarded CGG a contract covering 1,500 sq km (579 sq mi) of shallow water over the Ghasha-Butini field. The work also will be supported by Seabed Geosolutions.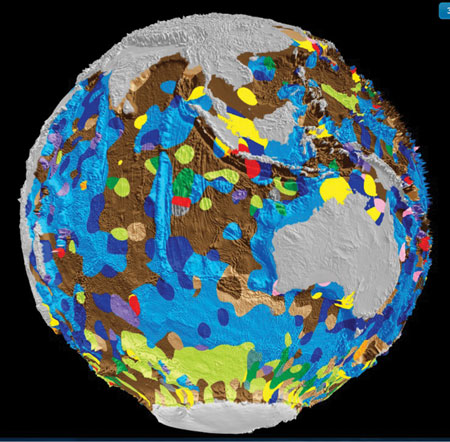 The University of Sydney has created a digital map of seafloor geology. The map indicates the distribution of the composition of the ocean seabed, say the researchers. Dietmar Muller, geophysicist at the university's School of Geosciences, says that the map uses 13 colors including yellow for sand, red for volcanic rock, and pink for shells and corals. It "brings out the enormous ecological and geological complexity of the sea floor that before we had no idea about." More than 15,000 sea floor samples were generated to make the new map.
Sea of Okhotsk
The public hearings in Nogliki settlement have resulted in approval for Gazprom Geologorazvedka to conduct 3D seismic work in the Sea of Okhotsk. The company explained "soft-start" acoustics, zero discharge of wastes, and continuous environmental monitoring.
Gazprom Geologorazvedka is a subsidiary of Gazprom.
The company operates in three license blocks offshore the Sakhalin Island: the Kirinsky prospect, including the Yuzhno-Kirinskoye field, as well as the Vostochno-Odoptinsky and Ayashsky blocks.
Gulf of Mexico
Mexico's Comisión Nacional de Hidrocarburos has authorized TGS to acquire multi-beam coring and geochemical analyses over 600,00 sq km (231,661 sq mi) of Mexican waters.
This project will cover the entire deepwater area of the Mexico's deepwater, including the Perdido Fold Belt and Campeche Bay. This project will be conducted in conjunction with the 186,000 km (115,575 mi) TGS Gigante seismic survey.
The multi-beam data will be acquired by Fugro using vessels equipped with the latest generation of multi-beam sonar equipment. Multi-beam bathymetry and backscatter data will help identify possible oil and gas seeps for sediment sampling.
More than 1,000 navigated piston cores are expected to be collected by TDI Brooks International and detailed geochemical analysis will be performed.
The survey is supported by industry funding. •