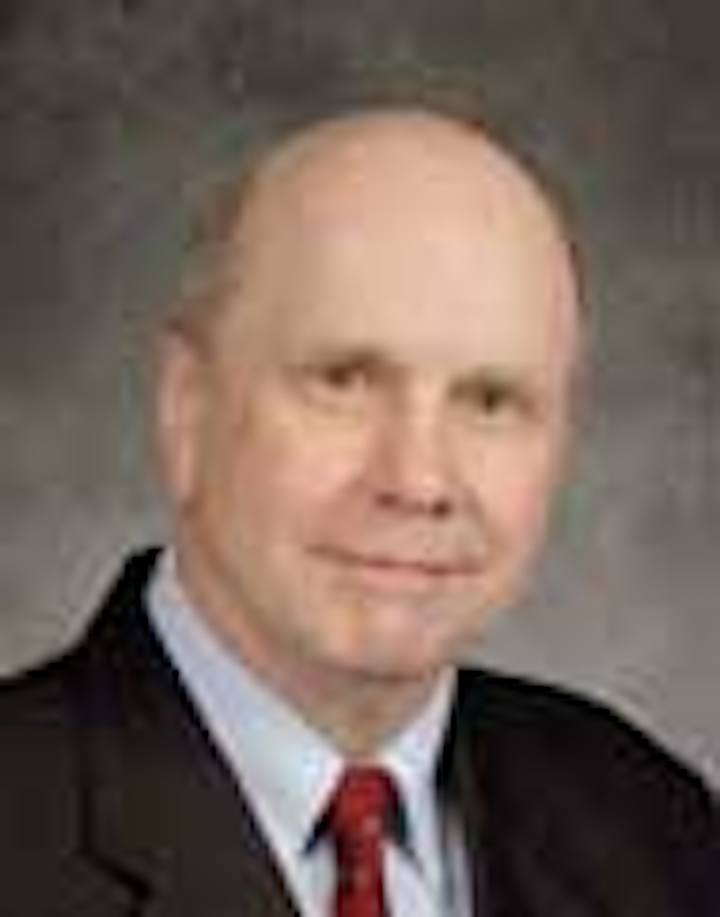 | | | |
| --- | --- | --- |
| | | Gene Kliewer • Houston |
TGS has started fast in 2014. Three of the company's four multi-client projects announced at the start of the year are offshore, one in Australia and two off Madagascar.
The Huzzas is a 2,100-sq km (811-sq mi) 3D survey that will cover the Barrow sub-basin, offshore northwestAustralia. The data is being acquired by the M/V Geo Caspian using CGG's BroadSeis and BroadSource technologies. Preliminary data is to be available to clients from 3Q 2014. Upon completion of this survey, TGS says its portfolio of 3D multi-client coverage offshore Australia will exceed 32,500 sq km (12,548 sq mi).
In addition, TGS has signed a letter of award with Polarcus to use thePolarcus Naila. Contingent on execution of final contractual documents, the charter will begin in April 2014 and will last for a period of six months.
TGS already had one project under way offshore Australia. The Nerites 3D survey is expected to cover 8,300 sq km (3,205 sq mi) in the Great Australian Bight, offshore South Australia.
The survey is contracted to cover two newly released petroleum exploration blocks in the Great Australian Bight, designated EPP 44 and EPP 45, mostly in the Bight's deepwater Ceduna sub-basin.
The newseismic data will be acquired by the Dolphin Geophysical vessel, M/V Polar Duchess. The survey will be acquired with a 12-streamer configuration with separations above 100 m (328 ft), and 8-km (5-mi) streamer length.
Data processing will be performed by TGS using its proven Clari-Fi broadband technology. Preliminary data is scheduled to be available to clients beginning 4Q 2014.
Elsewhere offshore Australia, Benthic has a contract from Neptune Marine Services Ltd. for an offshore geotechnical investigation to collect seabed geotechnical data off the coast of north Western Australia.
Operating from theNor Captain, Benthic's PROD (Portable Remotely Operated Drill) will do rotary drilling and piston coring, and in-situ testing using a piezo-cone penetrometer to identify the soil conditions and geotechnical properties of the soil for placement of a jackup drilling rig. PROD will penetrate to minimum depths of 30 m (~100 ft) below the mudline, in water depths of 100 m. Interpretive geotechnical data reports will be provided to Neptune following laboratory sample testing.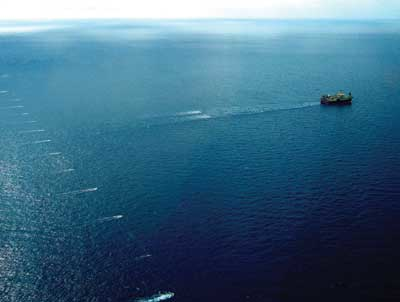 Ramford Vanguard">
Seismic vesselRamford Vanguard. (Photo: Ole Jørgen Bratland). A group of 17 oil and gas companies has a joint seismic acquisition project in the southeastern Barents Sea. Statoil is the operator of the project. The Norwegian Ministry of Petroleum and Energy requested via the Norwegian Oil and Gas Association that industry jointly acquire seismic 3D data from blocks that should be in the 23rd licensing round for the Norwegian continental shelf in 2014. This will be the first new area on the NCS to be opened since 1994. The companies taking part are BP, Chevron, ConocoPhillips, Det norske oljeselskap, Eni, GDF Suez, Idemitsu, Lukoil, Lundin, Norske Shell, PGNiG, Repsol, Spike, Statoil, Suncor, VNG, and Wintershall.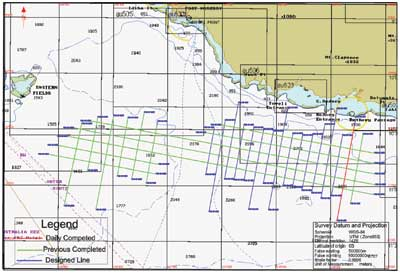 Dong Fang Kan Tan No. 1 2D seismic data acquisition vessel">
At last report, BGP PNG Exploration'sDong Fang Kan Tan No. 1 2D seismic data acquisition vessel has recorded about 68%, or 2,031 line km (1,262 mi), of its planned work in petroleum prospecting licenses PPL374 and PPL375 offshore Papua New Guinea. CNOOC is operator of the permits.
Elsewhere
Offshore Madagascar, the CSM-14 and AN-14 2D surveys cover 8,847 km (5,497 mi). CSM-14 is being acquired by theM/V Geo Arctic and AN-14 by the BGP Challenger. Data processing will be performed by TGS using its Clari-Fi broadband processing technology and final data will be available to clients from 4Q 2014.
Late in 2013, TGS began acquisition of a 3D multi-client seismic survey covering 2,022 sq km (781 sq mi) offshore Benin.
"The BR-13 survey will be TGS' second 3D survey in Benin," said Stein Ove Isaksen, senior vice president Eastern Hemisphere for TGS. "The 3D data will build upon current subsurface knowledge and provide improved imaging of deep Cretaceous and Tertiary strata. Interpretation of this data will lead to better delineation of oil and gas prospects over the acreage surveyed as well as a greater understanding of adjacent areas."
The seismic data is being acquired by theBGP Prospector, with a 10-streamer configuration. Data processing will be performed by TGS using its proprietary seismic multiple elimination processing technology, TAME. Final data will be available to clients from 3Q 2014.