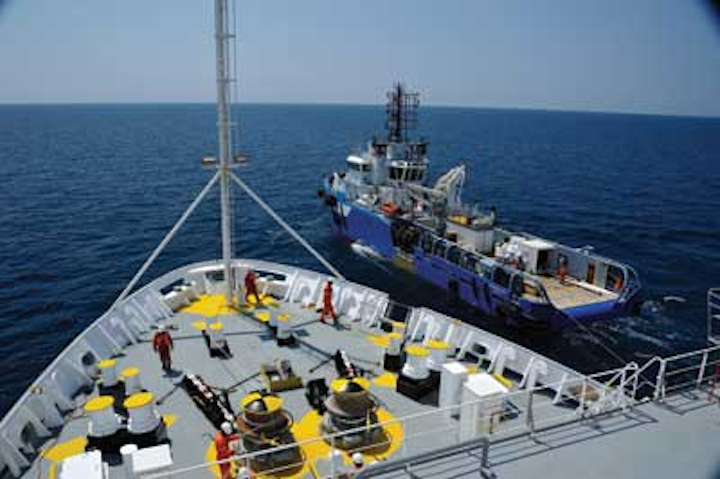 New hybrid system powers high-capacity design
Rodolphe Bouchet
BOURBON
Yves Rastoin
CGG
Main features of the BOURBON seismic support vessels:
Hybrid propulsion (mechanic and electric)
50-ton bollard pull
Fuel heating system designed to maintain approximately 50°C inside MGO/HFO tanks
53.8 m (176 ft) length overall
13 m (42.6 ft) breadth molded
230 sq m (2,475 sq ft) of deck space
1,360 ton (approx.) deadweight
950 cu m (33,549 cu ft) heavy fuel oil tank
121 cu m (4,273 cu ft) fresh water tank capacities
A-frame davit for workboat of 10 tons
Two Yokohama fenders of 4 m (13 ft) length and 2.5 m (8.2 ft) diameter to facilitate alongside operations
Full VSAT system.
One example of how contractors and vessel operators are addressing modern demand is an agreement between CGG and BOURBON on a new seismic support vessel design and operations program.
CGG currently operates 20 seismic vessels. Each vessel operates a seismic data acquisition spread of between eight and 14 streamers, with the most powerful, high-end vessels capable of towing up to 20 streamers. These streamers, incorporating sensors, are towed 100 m (328 ft) apart and can be up to 12 km (7.4 mi) long, making the vessel's overall footprint up to 1.5 km (0.9 mi) x 12 km (7.4 mi).Seismic vessels, sailing at a speed of 5 knots/hour, are limited in their maneuverability during spread tow, and may go as much as 21⁄2 years between consecutive stops.
These factors make operational performance and HSE paramount. If one of the fleet undergoes an unexpected loss of power, without a support vessel able to mobilize quickly and efficiently to provide backup towing capabilities, tens of millions of dollars of equipment at sea will be at risk. The same is true when refueling becomes an issue.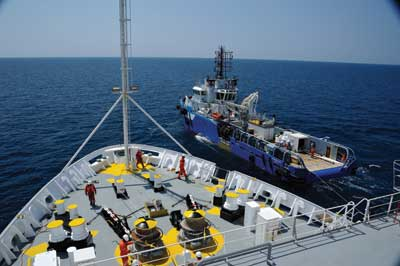 The seismic support vesselBourbon Petrel heading to be in position for an inline bunkering exercise with the CGG Symphony seismic vessel.
CGG and BOURBON signed an industry-first, five-year charter agreement for six purpose-designed seismic support vessels to be built and delivered in series. The new vessels, fitted with hybrid propulsion systems, are designed for multiple tasks, the main ones being personnel transportation for crew rotations; bunkering operations; operational protection and assistance; and support during maintenance.
Beyond service flexibility, one main benefit of the new design is fuel savings. As seismic companies bear the cost of fuel expenses, a hybrid propulsion system can help them make fuel savings while performing theirseismic operations. Compared to a standard support vessel, hybrid propulsion support vessels can save up to 30-40% in fuel costs.
The new vessel can support operations in three propulsion modes, namely diesel-electric, diesel-mechanical, and boost. The diesel-electric propulsion mode is used for an escort requirement from standby to 6 knot speeds. The diesel-mechanical propulsion mode is used for a sailing/transit requirement from 1 to 11 knots. Boost mode is used for a towing requirement where all the power is needed (maximum speed achievable is around 11.5 knots).
Additionally, each vessel is equipped with an on-deck davit and an on-deck crane. The towing capacity of 42-ton bollard pull and the quick release towing hook of 70-ton (safe-working load) allow the seismic mother ship to safely conduct maintenance operations on her propulsion while under preventive tow.
The first vessel of the series, theBourbon Petrel, started operating in the Black Sea in summer 2013. She conducted towing exercises and one towing operation for maintenance purposes, along with numerous crew rotation missions and refueling operations. The latter included an inline bunkering operation. Refueling can be performed either alongside the vessel or inline, although inline refueling helps widen the scope of operations as alongside operations may represent a risk in marginal sea conditions.
Heavy fuel oil (HFO) tanks and related heating systems are other critical items for seismic vessel refueling, and involve use of an on-deck fuel hose storage reel carrying 180 m (590 ft) of hose. The "plug and play" 500 kW thermal oil heater is capable of heating 895 cu m (31,606 cu ft) of HFO from 35°C to 50°C (95°F-122°F) in less than 72 hours.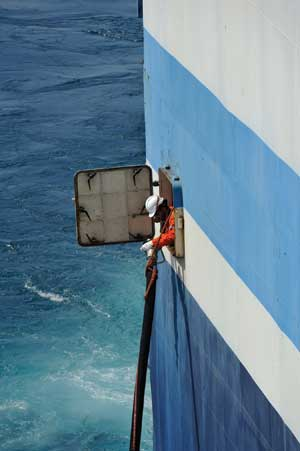 Fuel supply exercise for the CGG Symphony seismic vessel by the Bourbon Petrel seismic support vessel.
Building in series also helps better monitor and develop cheaper spare parts management.
Another important feature of the partnership is shared competence and safety training. BOURBON's crews benefit from seismic training sessions delivered by dedicated CGG specialists, while the captains of BOURBON's vessels receive training in Cork, southern Ireland on CGG seismic operations simulators.
Two years after the start of this partnership, theBourbon Petrel, the Bourbon Fulmar, and the Bourbon Gannet have been delivered and are supporting streamer vessels in northern Europe and western Africa. A fourth vessel, the Bourbon Grebe, will join the fleet soon, while the other two vessels in this series will be delivered in 2014.