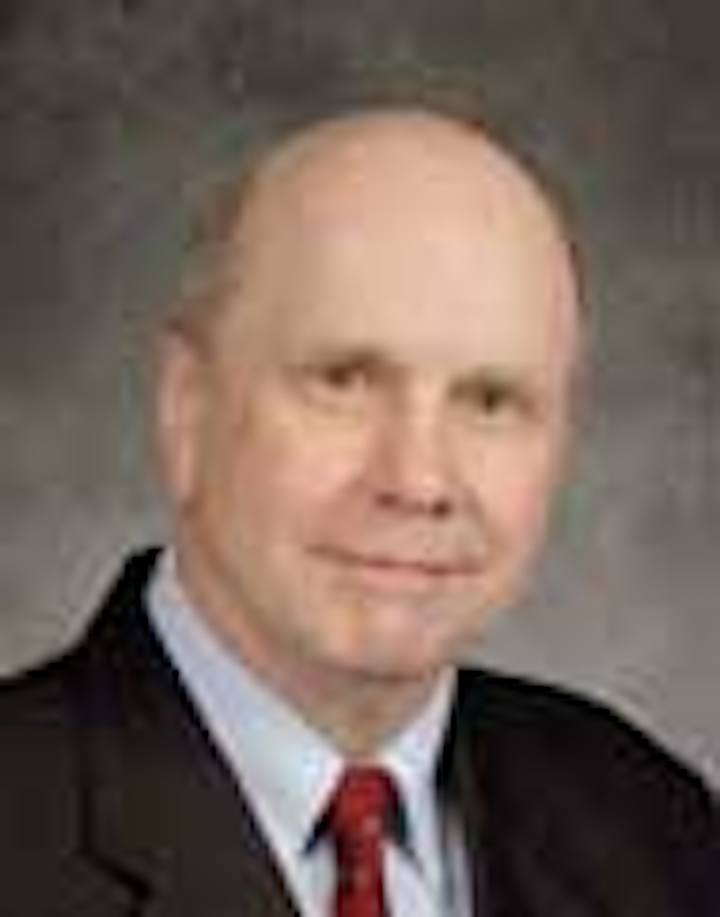 | | | |
| --- | --- | --- |
| | | Gene Kliewer • Houston |
ION Geophysical Corp.'s GX Technology group has won a multi-year contract with Petroleos Mexicanos (PEMEX), the national oil company ofMexico, to provide a range of seismic data processing for multiple offshore and onshore surveys over the next three years. The work will be done at GXT's Villahermosa, Mexico, and Houston offices, and through its Houston high performance computing center.
GXT will apply proprietary imaging technologies to process the data that will include deepwaters of theGulf of Mexico in complex subsalt areas. The scope of services includes GXT's WiBand broadband processing, velocity model building, and pre-stack depth migration (PreSDM) using both beam migration and high frequency reverse time migration (RTM) techniques.
"PEMEX will continue to invest heavily in hydrocarbon exploration and development in the years ahead," said Jose Antonio Escalera, sub-director of Exploration at PEMEX. "Much of this investment will be directed at E&P projects in which the targets are located in complex geologic regimes, including in fractured carbonate anddeepwater subsalt reservoirs."
This comes as Mexico moves to open its energy sector for outside investments. The moves include plans to release previously confidential seismic data.
PEMEX will release itsseismic data after the completion of follow-up legislation and rule-making as soon as April 20. Shortly thereafter, he said, the data will become public.
New permits for seismic assessment are expected following implementation of the April legislation, moving toward a first round of open bidding around June of next year.
Husky-CNOOC contract Indonesian seismic work
Nordic Maritime, in collaboration with ELNUSA, has contracted a 3D seismic data acquisition and processing job offshore Indonesia for Husky-CNOOC Madura Ltd.
Nordic Maritime's seismic vessel S/VNordic Bahari, which recently completed a 2,500-line km (1,553-mi) 2D marine seismic data acquisition and processing project on data from East Malaysia's Sarawak T3 block, for Pexco Sarawak N.V., will start the acquisition of approximately 420 sq km (162 sq mi) by the end of May with support from chase vessel M/V Viking Vanguard.
The project is expected to be completed by July.
PGS to expand offshore eastern Canada data
PGS is expanding its multi-client library offshore easternCanada with an added 30,000 km (18,641 mi) of 2D seismic data in the Labrador Sea and Newfoundland Flemish Pass.
The M/VSanco Spirit, using the PGS GeoStreamer multi-sensor technology, will start seismic and gravity data acquisition in the Labrador Sea and northeast Newfoundland-Flemish Pass areas. The data should be relevant to areas of interest (AOIs) that Canada's Newfoundland and Labrador Offshore Petroleum Board (C-NLOPB) is expected to announce soon following last December's new land tenure system.This new data will complement PGS' existing 47,600 km (29,577 mi) of 2D regional data acquired from 2011 to 2013.
The survey is in cooperation with TGS which will perform the data processing. Final data is expected to be available to clients in 3Q 2015.
Also this July the M/VAtlantic Explorer is scheduled to start acquisition of seismic and gravity data in the Tail of the Bank area of Southeast Grand Banks. The Southeast Grand Banks 2D covers an initial 15,000 km (9,321 mi), where it is expected the C-NLOPB will announce future AOIs. Once again processing of the GeoStreamer data will be performed by TGS and final data will be available to clients in 3Q 2015.
3D seismic survey completed offshore Namibia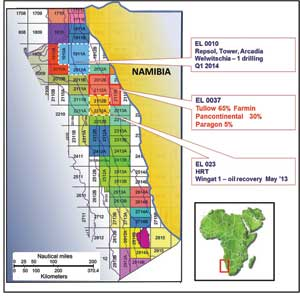 Lease areas held offshore Namibia.
Pancontinental Oil & Gas NL has completed a 3D seismic survey of its prospective offshore acreage in license area EL 0037 offshore Namibia.
The 3D acquisition, over approximately 3,000 sq km (1,158 sq mi) covers a number of leads noted on existing 2D seismic data. A second 2D acquisition phase will cover approximately 1,000 km (621 mi).
EL 0037 covers 17,295 sq km (6,678 sq mi) in the Walvis basin.
The 3D survey was managed by the EL0037 Joint Venture operator Tullow Oil, using the seismic acquisition vesselPolarcus Asima. 
Chariot Oil & Gas Ltd. has completed a 1,700-sq km (656-sq mi) 3D seismic survey across its areas of interest offshore Morocco.
The survey, encompassing ~1,075 sq km (415 sq mi) in Rabat Deep, ~250 sq km (96 sq mi) in Loukos Offshore, and ~375 sq km (145 sq mi) in Mohammedia Reconnaissance, is intended to enable the company to mature drillable prospects in the Mio-Pliocene and Jurassic plays identified within this region on reprocessed legacy 2D data.
Following processing, Chariot will interpret this new data which is expected to be completed by the end of 2014.
Survey off Iran anticipates embargo lift
Global Geo Services has made available its Persian Carpet 2000 multi-client 2D seismic survey over 106,000 km (65,865 mi) of the Iranian part of the Persian Gulf and the Oman Sea.
CEO Bjorn Ursin-Holm said: "With the ongoing international negotiations to lift the US/EU embargo on Iran, there is a big push to open up Iran for new foreign investments to international oil companies. The PC-2000 seismic survey covers the entire offshore area offshore Iran and preliminary interpretation of the data shows geological risks will be minimal, reserves are huge, and there is significant potential for the international community."
PC-2000 provides a dense grid of 2x2-km seismic lines. Numerous undrilled structures and stratigraphic prospects have been found from preliminary interpretation of the data, the company said.