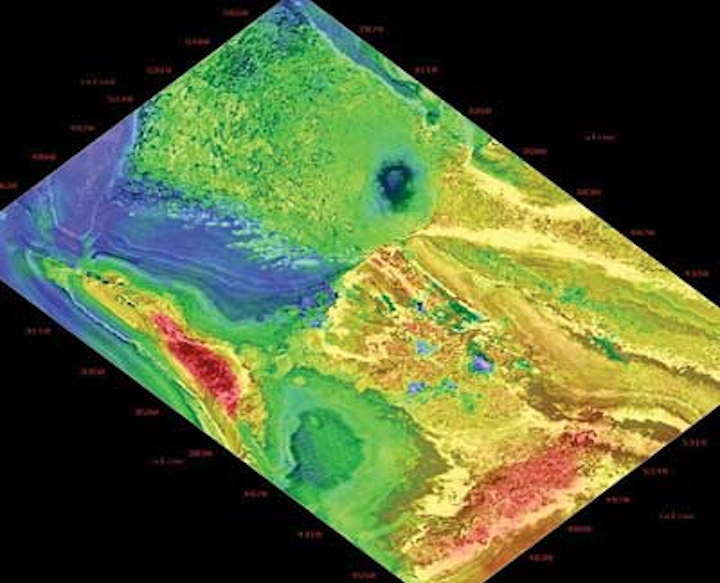 "Innovation" and "integration" keys to industry direction
Gene Kliewer
Technology Editor, Subsea & Seismic
Two words that encapsulate the recent Society of Exploration Geophysicists annual International Exposition and 84th Annual Meeting in Denver are "innovation" and "integration." Of all the technologies involved in upstream oil and gas, none is more subject to innovations than is the geophysics side. Much of the innovation touted at the event involved integration of systems and programs into packages designed to give a bigger and better understanding of the subsurface to a range of disciplines for an improved life-of-field span. There was also increasing interest in the environmental aspects of offshore exploration.
The emphasis on integration is illustrated by the number of companies from large to small referencing the movement during the exposition. Following are some examples.
IHS Inc. Kingdom 2015 offers integration such as dynamic map updates, geosteering, and 3D geology and fault attributes, enabling geologists, geophysicists, and engineers to work in a shared platform.
The application provides forgeoscience interpretation across geological, geophysical, and engineering interests. For geoscientists, it delivers 3D analysis for fault interpretation and fracture identification, based on a new, patent-pending Illuminator technology. It also offers geosteering to help engineers minimize risk and optimize drilling productivity.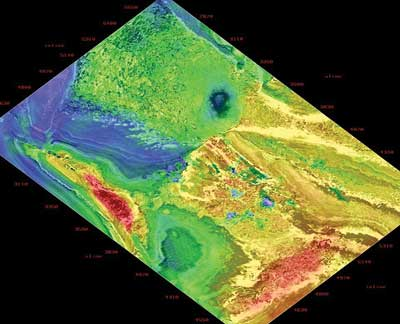 Full wave form inversion (FWI) velocity models show detail and resolution, as seen within this depth slice from a broadband marine survey acquired using BroadSeis, offshore Angola. As introduced by CGG, FWI uses all the recorded seismic, including parts often removed during conventional processing, to update the velocity model by minimizing the mismatch between the observed seismic data and data modeled through the current earth model. FWI can improve the modeling of complex velocity structure associated with such things as shallow gas, paleo-channels, supra-salt sediment carapace, or permafrost zones. In these instances, the variable shallow geology causes shadow zones and distortions in the seismic image that hinder accurate imaging of the deeper earth. The models produced by FWI can be used by imaging algorithms, such as reverse time migration, to provide clearer subsurface images. CGG says it continues to further refine the FWI processing flow, and has developed methods to reduce the artefacts and velocity errors associated with cycle skipping. In addition to velocity, FWI can also help derive other seismic parameters. Anisotropy (VTI or TTI) is included in the modeling of FWI. But now a joint update of velocity and epsilon together can be performed, thereby updating the anisotropy. Also, a high-resolution FWI velocity model can better constrain the area of analysis and convergence of Q tomography. (Image courtesy of CGG Data Library)
Landmark's GeoGraphix is cited as providing seamless interpretation and seismic and geologic data, with high-resolution 3D seismic attribute generation and seismic multi-attribute rock property prediction. All of this is integrated into one 3D scene. Even Landmark's single-user DecisionSpace G1 offers integrated earth modeling with geophysical interpretation tools such as attribute analysis, velocity modeling, well ties, and depth conversion.
OpendTect 5.0 advances dGB's HorizonCube and sequence stratigraphic interpretation capabilities. Key features, says dGB, include a new interactive HorizonCube tracker workflow for 2D seismic.
Many new OpendTect 5.0 features stem from the dGB-led Sequence Stratigraphic Interpretation System (SSIS) consortium that includes sponsors such as Saudi Aramco, Statoil, OMV, MOL, and Roc Oil.
Other features within OpendTect 5.0 include integration with MATLAB for numerical computation, visualization, and programming; the application of post-stack attributes to pre-stack and multi-component datasets and the creation of multi-attribute outputs to pre-stack or multi-component volumes; access to texture attributes through links to dGB, Austrian-based research institute, Joanneum, and Austrian oil and gas company, OMV Aktiengesellschaft.
Version 5.0 also included enhancements to SynthRock that combines forward modeling, rock physics, and inversion to create and use forward models in qualitative and quantitative seismic interpretation studies.
StructureSolver's StructureSolver 2.0 geophysical interpretation program supplies methods of structural modeling and restoration that integrates structural history, kinematics, and internal strain measures, said the company. It includes linked animations of multiple structures, calculation and display of strain ellipse and strain markers for structural surfaces, and animation of strain throughout time.
StructureSolver also has "one-click" structural restoration that can restore interpreted seismic or geologic sections by restoring slip across faults.
StructureSolver says the program seeks to create paleovertical trajectories in the present day seismic or geologic section that correspond to unbroken vertical traces in the restored section. A hybrid approach is used where length is conserved along the reference horizon, the internal parts of fault blocks are restored using vertical shear, and a constant amount of slip is removed along each fault, equal to the slip of the reference horizon across that fault.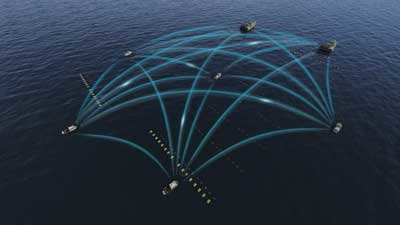 A Kongsberg Seatex introduced a high-speed, high-capacity data, voice, and video communication system that can connect multiple vessels involved in a seismic shoot. Kongsberg Seatex says the MBR system, operating in the 5 GHz band can handle close vessel communications over more than 50 km (30+ mi) even with platform obstructions. The MBR system requires only the units on board the participating vessels and allows those vessels the capacity for a variety of digital communications, including real-time video streams and data transmissions. (Image courtesy Kongsberg Seatex)
Displaying 1/2 Page 1,2Next>
View Article as Single page