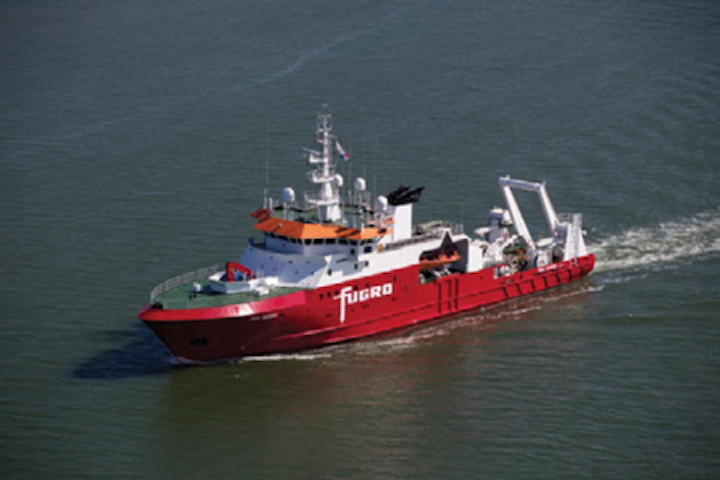 Fugro has teamed up with Amplified Geochemical Imaging (AGI) to acquire offshore hydrocarbon seep data in advance of Canada's 2018 east coast bid round. Bathymetry, backscatter and water column anomaly data will be collected to pull together a comprehensive picture of surficial geological features.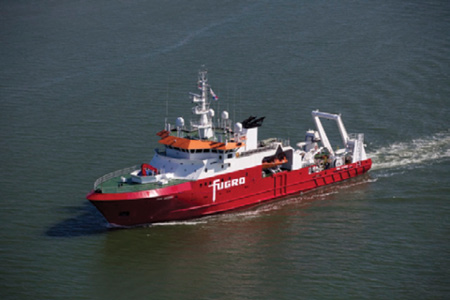 TheFugro Discovery will soon be setting sail to acquire offshore hydrocarbon seep data in advance of Canada's 2018 east coast bid round. (Courtesy Fugro)
The seafloor mapping will be performed by Fugro using its geophysical vessel,Fugro Discovery, and includes acquisition of 10,500 sq km (4,054 sq mi) of multi-beam echo sounder data and sub-bottom profiler data. This will be followed by coring up to 150 geochemical targets and 20 heat flow measurements, complete with shipboard geochemical screening testing, further shore-based geochemical analyses (carried out by AGI) and an integrated, interpreted data package. AGI's geochemical analyses will determine the hydrocarbon signature of the samples.
The comprehensive data package will be available in early 2018 and is being licensed from both Fugro and AGI.
Offshore Brazil survey to take in 15th round areas
The BGP Challenger has started a 6,000-km (3,728-mi) multi-client 2D seismic survey over the Ceara basin offshore northern Brazil, including areas covered under the country's 15th licensing round.
According to BGP Marine's partner Spectrum Geo, the vessel is deploying a 12,000-m (39,370-ft) streamer with continuous recording to facilitate extended recording lengths and high fold data, allowing full interpretation from Moho to water bottom.
Data will be processed with PSTM, PSDM, and Broadband products, with first deliveries expected during 1Q 2018. The 15th round is due to close during 2Q.
Richie Miller, Spectrum's EVP Multi-Client Americas, said: "When the survey is completed it will provide a continuous modern long-offset, 10-km (6.2-mi) grid from the border with French Guiana to the eastern extent of the Potiguar basin."
Fugro details wide-ranging survey program offshore Mexico
PEMEX has awarded Fugro and Constructora Subacuática Diavaz a $10-million contract for various operations offshore Mexico. The program, due to be completed in December, includes multi-site high-resolution geophysical and geotechnical surveys and laboratory testing and geoconsulting services to support design and/or installation of platforms, pipelines, jackup platforms, and deepwater facilities.
Edison receives first package from East Med 3D survey
Shearwater GeoServices has supplied a 3D fasttrack pre-stack depth migration (PreSDM) product for Edison International from a new 3D SHarp broadband dataset in the Eastern Mediterranean.
Simon Telfer, VP Processing and Imaging at Shearwater, said: "Edison required a PreSDM volume within weeks of completing the 3D acquisition. Our Onboard Processing and Depth Imaging groups worked closely to draw up a plan. We delivered to Edison a full 3D pre-stack depth migration product, including broadband processing and iterative model-building in just over four weeks from the final acquired shot record."
Bruno Garcea, Seismic Supervisor of Edison's Egypt branch, said: "Depth imaging and broadband technology are key elements to achieve a better seismic image of subsalt plays in the Eastern Mediterranean. So, we required, for the first time, to obtain a quick depth volume immediately after acquisition."
Davide di Biase, Exploration Manager MENA Area of Edison, added: "Early interpretation, through an accelerated turnaround of seismic processing, is important factor to better planning and targeting exploration projects."
Report shows potential offshore Montenegro
Energean Oil & Gas has outlined the findings of the first competent persons report (CPR) for its exploration blocks offshore Montenegro in the eastern Adriatic Sea.
The report, by Netherland Sewell & Associates, covers shallow-water blocks 4218-30 and 4219-26, which cover a surface area of 338 sq km (130 sq mi).
Energean secured 100% operated interests in the concessions this March, after signing an agreement with the State of Montenegro.
The CPR estimates total net un-risked prospective recoverable resources (P50) across the two blocks at 1.8 tcf of natural gas and 144 MMbbl of liquids (438 MMboe in total).
This is the first component of the first three-year exploration phase: the mandatory work program includes a 3D seismic survey over the two blocks, likely acquired next year, and geological and geophysical studies.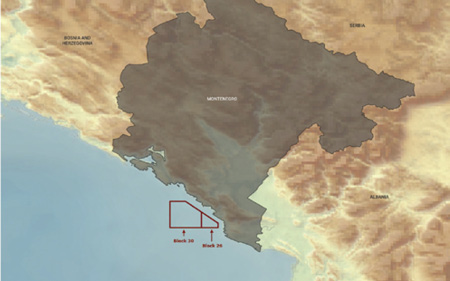 Energean Oil & Gas has outlined its initial findings for its exploration blocks offshore Montenegro in the eastern Adriatic Sea. (Courtesy Energean Oil & Gas)
Energean estimates the total cost of this initial exploration phase at $5 million.
Offshore Montenegro has been little explored, despite the fact that oil and gas discoveries were made during drilling by previous operators in the area in the late 20th century, although these were not commercialized.
Energean CEO Mathios Rigas claimed the CPR showed the country may be in the 'sweet spot' of untapped potential in the eastern Adriatic.
"The area remains substantially underexplored, despite having what appears to be a working petroleum system with extensive sandstone and carbonate reservoir development. The western offshore Adriatic has been a prolific hydrocarbon-producing province for over 50 years for both oil and biogenic gas and we believe that the same hydrocarbon plays extend into offshore Montenegro. With exploration experience in western Greece, Energean has developed a detailed understanding of the area's geology and is committed and uniquely positioned to maximize development possibilities and unlock the region's hydrocarbon potential."
Libra acquisition project sets sail
FairfieldNodal reports that its project to acquire and process high-resolution 3D marine seismic for the Libra consortium has left port for deeper waters to begin work. This consortium is led by Petrobras, and includes Total SA, Royal Dutch Shell Plc, China National Petroleum Corp., and CNOOC.
The Libra project, FairfieldNodal's first such project offshore Brazil, will use the proprietary Z3000 ocean bottom node system. This survey is designed to provide the operator with the 3D seismic data needed to make critical decisions on the development of this field.