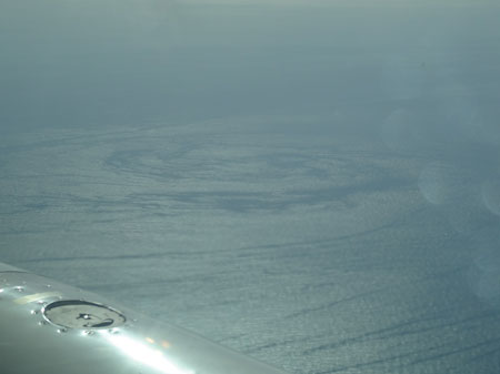 Sarah Parker Musarra• Houston
Fugro, Areté deploy current imaging system
Fugro and technology partner Areté Associates recently deployed the Remote Ocean Current Imaging System (ROCIS) on its first project, and it delivered near-real-time, synoptic, surface current data to characterize loop current and loop current eddy conditions in the US Gulf of Mexico. Over the course of the five-month program, Fugro said it surveyed currents over a distance of more than 125,000 km (77,671 mi). During that time, ROCIS data supported day-to-day operational planning and enhanced the accuracy of 3D hydrodynamic current forecast modelling. The partners said they developed a system that uses a combination of digital camera technology and accurate positioning systems, together with advanced algorithms, to derive surface currents from wave spectra measurements. It can be installed on a suitable survey aircraft, together with an inertial navigation system augmented by Fugro's Starfix satellite positioning system. Current data is reviewed in real-time on board the aircraft. Within an hour of the aircraft landing, the system produces a "quick-look" map of the currents over the area; processed data files are available a few hours later.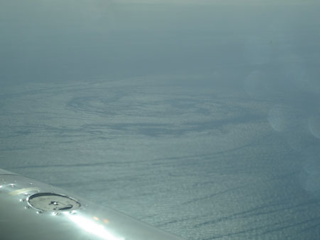 ROCIS is an airborne system for mapping surface current conditions over a wide area of ocean for current-sensitive offshore operations (Image courtesy Fugro)
Fugro said it will add a second ROCIS unit later this year to further enhance its support of offshore operations.
CGG wins new contracts
CGG announced two major contract wins just over two weeks apart in February. Most recently, Mexico's Comisión Nacional de Hidrocarburos authorized the French company's multi-client airborne gravity and magnetic survey. The program, which will begin in March and is anticipated to take 12 months, will include the acquisition of about 200,000 line km (124,274 mi) over six areas across the Mexican sector of Gulf of Mexico.
The company said the survey will provide coverage over the most prospective areas from the prolific Perdido fold belt with AOI 1, to the more mature near-shore heavy oil belt with AOI 6. The project has received significant prefunding from the oil industry.
The airborne survey will also collect continuous data through the "transition zone" from the marine environment to onshore. An interpretation combining this new data set with available geologic and geophysical data will also be undertaken by CGG's in-house interpretation team. The final results will be presented in ArcGIS format to allow assimilation into clients' own seismic, geological and well control databases.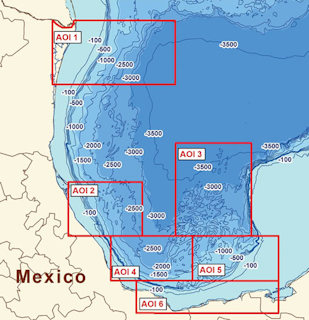 Location of areas covered by CGG's newly announced multiclient airborne gravity and magnetic survey offshore Mexico. (Image courtesy CGG)
Weeks before the Mexican multi-client survey was announced, CGG was awarded an extension to a major 3D seismic survey it successfully completed offshore Colombia in late 2015.
Anadarko Petroleum Corp. originally contracted CGG in March 2015 to acquire and process 16,314 sq km (6,299 sq mi) of 3D seismic survey over portions of the Col-1 and Col-2 blocks on the Caribbean coast.Oceanic Sirius (shown on the cover) andOceanic Vega were assigned to this campaign.
The new survey follows on from the survey CGG conducted over portions of these blocks, which the company said was the largest survey ever recorded offshore Colombia. The extension was expected to start in February. The additional data will also be processed in CGG's Houston subsurface imaging center.
Magseis details new survey
Magseis is working with BGP on Saudi Aramco's S78 project for large-scale ocean bottom seismic (OBS) acquisition in the Red Sea.
Magseis said the program, due to start in July, will take place in complicated surface and geological conditions and in a combination of deep and shallow water. Work is due to start in July.
The Norwegian company will deploy its OBS technology from its dedicated OBS vessel M/V Artemis Athene. This acquisition system, known as MASS, features small, autonomous sensor capsules inserted into an optimized steel cable. Magseis says that the cable can be deployed and recovered at higher speeds and in larger quantities than previously possible. BGP will handle the transition zone campaign.
Polarcus charter extended
Polarcus received a letter of intent for a 4D project over a field offshore Norway. This will be the eighth monitoring survey of the field and is part of an improved oil recovery plan. The survey is due to commence in May 2016 and will run for approximately eight weeks
Subsidiary Polarcus Selma Ltd. and SCF Sakhalin Supply Ltd. agreed to a three-year extension of the bareboat charter party agreement (BBCP) for M/V Vyacheslav Tikhonov. Polarcus announced that the vessel charter will continue for a further period of three years starting from Aug. 18.