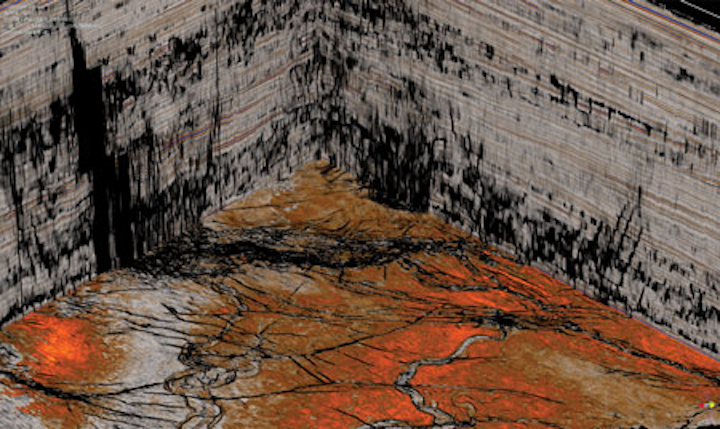 Sarah Parker Musarra• Houston
New software releases
Recently, the industry has seen several new or updated suites of seismic-related software hit the market.
Paradigm 15.5:Paradigm has released its Paradigm 15.5 suite, aimed at extending its high-definition subsurface workflows and enhancing user productivity. The software aims to help users resolve stratigraphic details and recover the subsurface features that control hydrocarbon accumulation and recovery.
Paradigm 15.5 includes memory-efficient multi-volume, multi-horizon, and multi-survey flattening. Its horizon-fault contacts are calculated and editable on-the-fly. It also features multi-volume attribute extraction and blending with geometric attributes in 3D Canvas.
Additionally, the Paradigm Quantitative Interpretation solution for recovering rock properties from seismic and well data has been updated with a Wedge Modeling application that analyzes the effect of bed thickness on seismic amplitudes, and provides the option to easily test "what if" scenarios.
Paradigm 15.5 includes the recently released Geolog 7.4 formation evaluation suite, which expands the solution's reach into the engineering domain with new well integrity and geomechanics modules, to evaluate casing integrity and help assess mechanical conditions around the wellbore, to provide a better understanding of the reservoir.
Additional efficiency enhancements provided with the Paradigm 15.5 release are enabled by new and expanded interdisciplinary workflows, including:
An extension of the cross-domain integration between Paradigm velocity determination and earth modeling solutions, enabling structurally and stratigraphically constrained velocity model updating
Enhanced integration between geologic modeling and interpretation applications through the loading and display of time-stamped production data
The inclusion of Paradigm Epos-based well display and mapping capabilities with certain Geolog configurations.
This release also expands connectivity between Paradigm and other G&G platforms, including Petrel seismic-to-simulation software, to provide users with additional options for accessing Paradigm's advanced technologies while maintaining value from existing investments in other software platforms.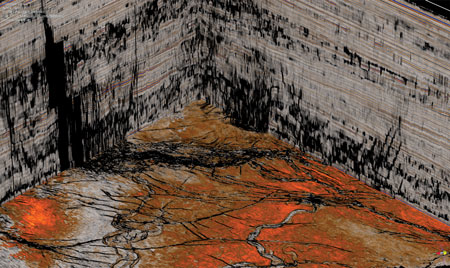 Multi-volume, multi-horizon, multi-survey volume flattening offerings are available in Paradigm SeisEarth. (Image courtesy Paradigm)
ImaCore 3017: MR Solutions, of Guildford, UK, in partnership with Green Imaging Technologies, based in New Brunswick, Canada, have combined technologies to bring ImaCore 3017, a new 3D magnetic resonance imaging (MRI) solution.
The partners said that the ImaCore 3017 will lessen resolution limitations by allowing customers to bolster the theoretical with actual images of all the fluid present in the rock core sample, and thus the pore network. The cryogen-free MRI imaging technology is versatile, as the magnet field can be adjusted depending on image requirements. Sample sizes can range from 1-in. to 4-in. diameters and space is provided for pressure and flow cells, allowing users to make measurements at reservoir conditions and to perform high resolution flow studies.
PerGeos:FEI has released PerGeos, a software that aides in interpreting and modeling digital rock imagery. Using PerGeos, core analysts, geologists and petrophysicists can integrate data from multiple sources and share descriptions and statistics using a common platform. It features automated workflows, high-powered image processing algorithms and a user-friendly interface. The initial PerGeos release consists of three modules: petrophysics, pore statistics and core profile. Each module is designed to help users make statistical observations about the sample as it relates to their specific function, and then allows them to transfer this knowledge to a digital environment for interactive assessment by the entire asset team. Fugro to assess seabed conditions off Australia.
Hess Exploration Australia has commissioned Fugro to conduct a combined geophysical and geotechnical project in the northern Carnarvon basin offshore northwest Australia. The program, due to start in the current quarter, will include seabed and shallow geological investigations, some in areas of difficult terrain. For the first phase, the company will employ a Hugin 1000 AUV to map the seabed. The data will help optimize planning for the subsequent sediment sampling phase where a variety of techniques will be applied.