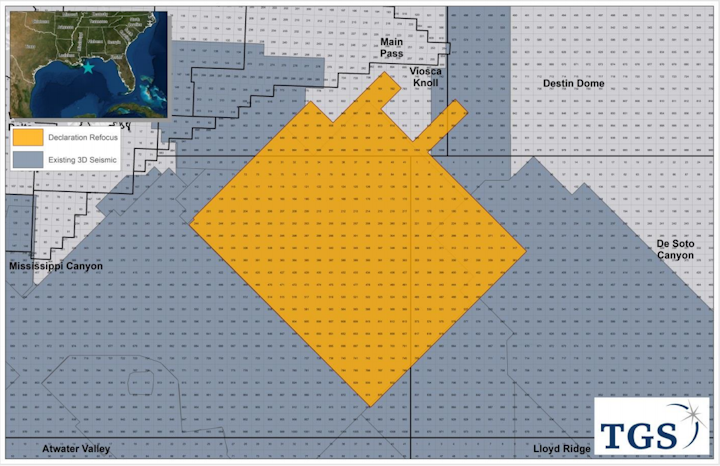 (Courtesy TGS)
Offshore staff
ASKER, Norway – TGS has started the Declaration Refocus next generation M-WAZ imaging program in the Mississippi Canyon area of the US Gulf of Mexico.
The new, reimaging workflow is designed to provide enhanced imaging and greater illumination of prospectivity in the area.
The program comprises data covering more than 380 outer continental shelf blocks (~8,860 sq km/3,421 sq mi) from orthogonal 3D WAZ programs previously acquired by TGS using WesternGeco Q-Marine and CGG StagSeis seismic systems between 2010 and 2015. 
Full product delivery of Declaration Refocus is expected at the end of 2020.
The new imaging project will process data from the prolific Mississippi Canyon, Viosca Knoll, and De Soto Canyon areas. Particular attention will be given to increasing frequency content and resolution throughout the entire data section with additional focus on the Norphlet formations, the company said.
The imaging process is also expected to provide enhanced velocity and salt models.
This project is supported by industry funding.
12/02/2019