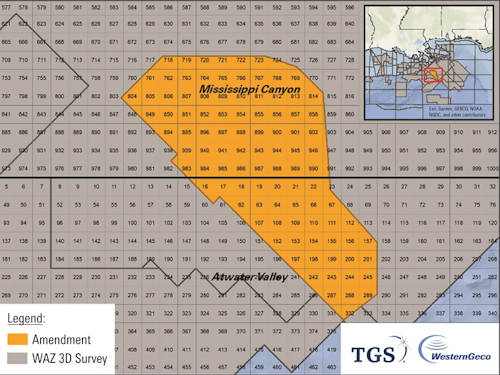 Offshore staff
ASKER, Norway and HOUSTON– TGS and Schlumberger have announced a new multi-client nodal seismic project in the US Gulf of Mexico.
The project, named "Amendment," will comprise acquisition of a 2,350-sq km (907-sq mi) multi-client seismic survey in the Mississippi Canyon and Atwater Valley protraction areas. This area includes open acreage, existing producing assets, and new discoveries.
Seismic data will be acquired using Fairfield Geotechnologies 4C nodal acquisition technology with operations expected to start in 4Q 2018. The companies will apply their full azimuth processing expertise and expect to deliver final data to customers in 1Q 2020.
TGS CEO Kristian Johansen said: "The Amendment project will enhance our current data coverage in the Central US Gulf of Mexico. E&P companies are showing increased interest in the benefits of nodal seismic data to overcome imaging challenges in this region. In the Amendment project, TGS and Schlumberger will reimage underlying WAZ seismic data to provide modern, high-quality nodal seismic data to our clients."
Maurice Nessim, president, WesternGeco, Schlumberger, added: "Schlumberger and TGS have built up extensive geophysical and geological knowledge in this prolific part of the US Gulf of Mexico. In line with theWesternGeco asset-light strategy, the application of nodal seismic technology and state-of-the-art imaging techniques will help to accelerate hydrocarbon discovery, development, and production for our clients.

"This unique dataset will provide a step change in illuminating complex subsurface structures and help E&P companies to maximize the value of their producing assets and rejuvenate their exploration portfolios. This highly integrated project will combine well log data, high-quality orthogonal WAZ and new nodal measurements to provide foundations for the first industry-funded regional nodal survey in the deepwater Gulf of Mexico."
This survey is supported by industry prefunding.
10/12/2018