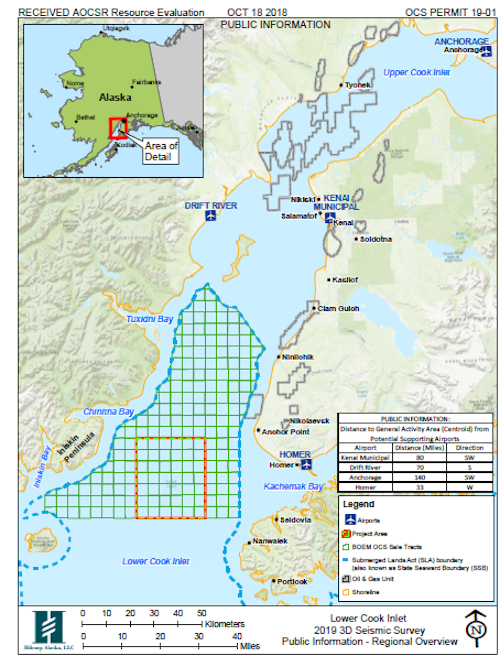 (Courtesy Bureau of Ocean Energy Management)
Offshore staff
ANCHORAGE, Alaska – The Bureau of Ocean Energy Management (BOEM) has approved a permit from Hilcorp Alaska LLC to conduct a 3D seismic survey in the federal waters of Cook Inlet, off the coast of southcentral Alaska.
The area to be surveyed is in the lower Cook Inlet, west of Kachemak Bay.
Hilcorp expects to begin the survey in late summer or early fall. The company will have 60 days to complete the survey, BOEM said.
In June 2017, Hilcorp acquired 14 outer continental shelf (OCS) blocks from Lease Sale 244. The survey area comprises 42 OCS blocks, including eight of the company's 14 leased blocks, covering about 969 sq km (374 sq mi).
This will be the first geophysical survey in Cook Inlet since Veritas DGC conducted one in July 2015, according to BOEM.
08/15/2019