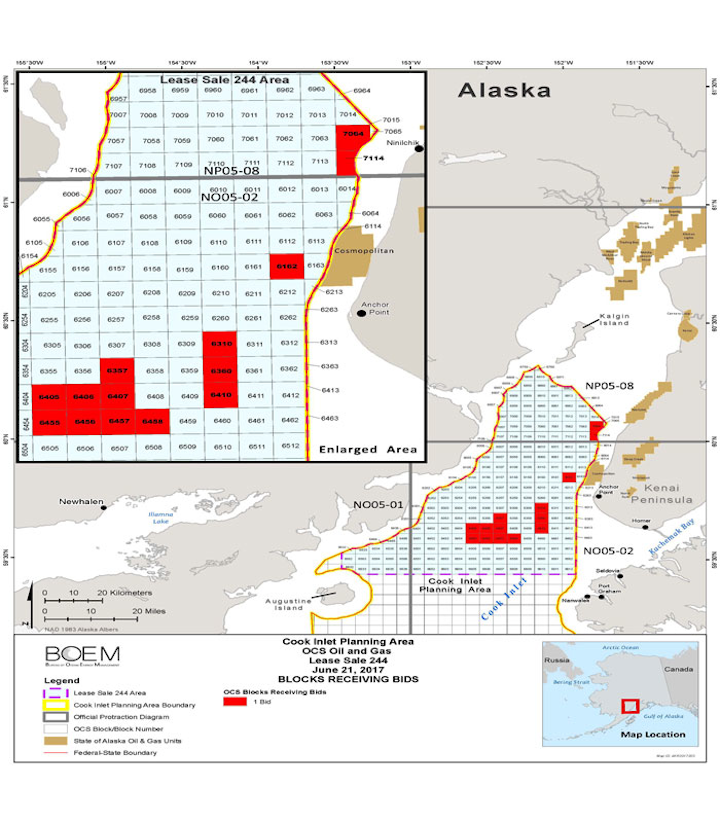 Offshore staff
ANCHORAGE, Alaska– The US Bureau of Ocean Energy Management has reported that the Cook Inlet Lease Sale 244, the first lease sale held in Alaska's federal waters since 2008, garnered $3,034,815 in high bids for 14 tracts covering roughly 76,615 acres in Cook Inlet, offshore southcentral Alaska.
All bids were submitted by Hilcorp Alaska LLC. The Seldovia area blocks 6405, 6456, and 6455 each received the highest bid of$474,582.
Each bid will now go through a 90-day evaluation process to ensure the public receives fair market value before a lease is awarded.
This is the final lease sale to be held under the 2012-2017 Outer Continental Shelf (OCS) Oil and Gas Leasing Program. It offered 1.09 million acres in Cook Inlet, comprising 224 blocks stretching roughly from Kalgin Island in the north to Augustine Island in the south.
The Cook Inlet lease sale terms include stipulations to protect biologically sensitive resources, mitigate potential adverse effects on protected species, and avoid potential conflicts associated with oil and gas development in the region.
The 2017-2022 Program is set to begin this summer and will be in effect until BOEM completes a new national OCS oil and gas leasing program as part ofPresident Donald Trump's America first offshore energy strategy, as outlined in the president's Executive Order 13795 on April 28, 2017, and amplified by Secretary Ryan Zinke's Secretarial Order 3350 on May 1, 2017.
06/21/2017