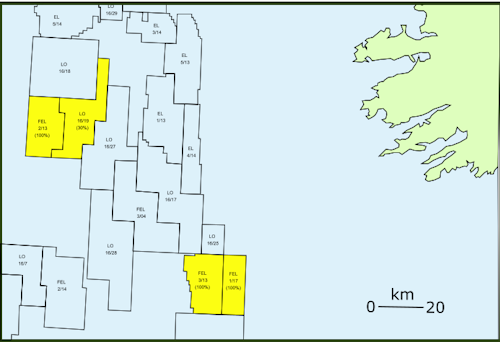 (Map courtesy Europa Oil & Gas)
Offshore staff
DUBLIN, Ireland – The Irish government has granted Europa Oil & Gas a 12-month extension to the first phase of frontier exploration license 2/13 until July 4, 2020.
FEL 2/13 is on the west flank of the South Porcupine basin offshore western Ireland. It includes the potential 280-MMboe Kiely prospect and the Doyle Cretaceous channel complex.
Europa now plans to integrate recently purchased Crean 3D seismic data over the area, acquired and processed by CGG, focusing on mapping the extension of Kiely East into open acreage to the south of the license.
It has submitted a site survey for a drilling location over the structure.
The license is in water depths ranging from 800-1,200 m (2,624-3,937 ft). Plays include the Pre-rift and Cretaceous channels, with nine prospects and leads so far identified on proprietary PSDM 3D seismic data.
Kiely East, in the Pre-rift play, is considered the top prospect, and an extension into the acreage to the south could potentially double the size of the resource.
08/12/2019