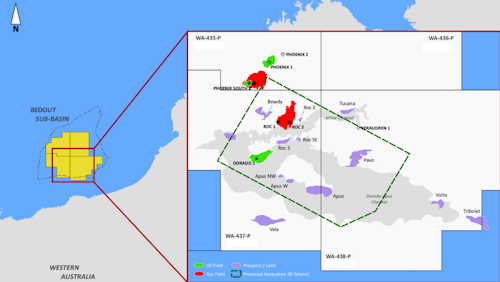 Carnarvon Petroleum Ltd.
Offshore staff
WEST PERTH, Australia – The Keraudren 3D seismic survey has started over the Dorado and Roc discoveries and nearby prospects in the Bedout basin offshore Western Australia, according to Carnarvon Petroleum Ltd.
The Keraudren 3D survey covers part of WA-437-P and WA-438-P in which Carnarvon holds a 20% and 30% interest, respectively.
The purpose of the survey, the company said, is to assist with the advancement of the Dorado oil and gas field development and to prepare for the potential drilling of high graded exploration targets including Pavo and Apus.
In addition, the Keraudren 3D survey has been designed to improve the data quality over the Caley, Crespin, Baxter and Milne intervals. These intervals contain significant quantities of oil and gas as proven in the Dorado-1 well, the company said.
The survey, covering about 3,090 sq km (1,193 sq mi) will take around 70 days to acquire, with processing of the data to be fasttracked to be available for interpretation in early 2020. This timing, Carnarvon said, enables the data to be incorporated into field development planning to support a final investment decision target currently expected in late 2020.
05/31/2019