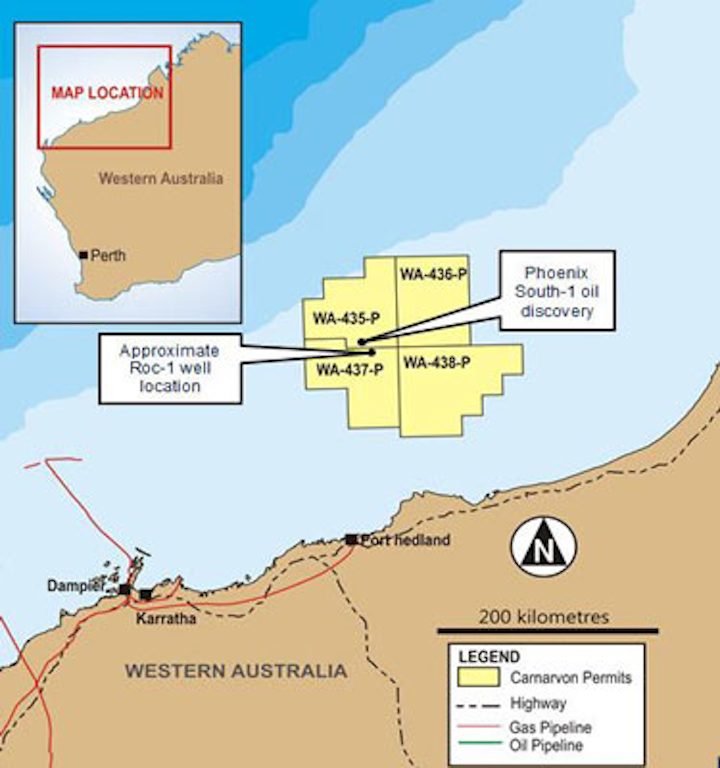 Offshore staff
WEST PERTH, Australia – Quadrant Energy has discovered condensate-rich gas in the Roc-1 well in the WA-437-P permit offshore Western Australia, 150 km (93 mi) north of Port Hedland.
According to partner Carnarvon Petroleum, wireline logging over the interval from 4,380-4,420 m (14,370-14,501 ft) also confirmed reservoir-quality sands, with a net hydrocarbon interval of 10 m (33 ft).
Pressure testing revealed at least three discrete hydrocarbon columns in the same section.
Formation fluid sampling revealed a liquids-rich gas with a condensate ratio of 20-40 bbl/MMcf. This is currently undergoing evaluation at the rig site using downhole instruments.
Inferred permeability in reservoir appears to be in the range from 10 to 100 millidarcy.
Carnarvon's managing director Adrian Cook said results have confirmed a live hydrocarbon system in the area, with indications at this early stage of evaluation that the condensate-rich gas resides in reservoir capable of being recovered in a conventional manner.
"While the composition of the recovered hydrocarbons will need to be confirmed by laboratory tests," he added, "it appears the condensate-rich gas is different to thePhoenix South-1 oil that had a high gas content."
Phoenix South, drilled 20 km (12.4 mi) to the northwest in 2014, was an unexpected oil discovery for previous operator Apache. The present partners have aimed to prove further oil in the play at the Roc prospect.
The hydrocarbons discovered in Roc-1 are interpreted to be in a downdip location on the structure close to the calculated gas-water contact. The partners plan another well at a future date to test the structure's potential crest, designed specifically for this type of sand.
Equity interest holders in WA-437-P are:
Quadrant Energy (operator) 40%
Carnarvon Petroleum 20%
JX Nippon 20%
Finder Exploration 20%.
01/04/2016
Share your news withOffshore at news@offshore-mag.com