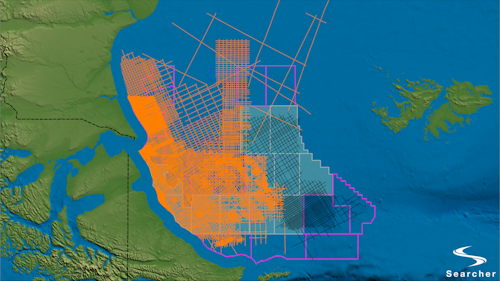 Searcher Seismic
Offshore staff
WEST PERTH, Australia – Searcher has expanded the Argentina Super-Tie 2D reprocessing project.
Following phase 1, which specifically targeted the recent offshore bid round, the project has now been extended to include all available offshore 2D seismic data in the Malvinas and Austral basins.
The reprocessing effort will use a modern broadband and AVO compliant workflow to both improve imaging quality and provide regionally consistent data coverage, the company said.
The Argentina Super-Tie 2D PSTM reprocessing project expands Searcher's data library in Argentina, which currently includes 200,000 km (12,427 mi) of rectified 2D, 1,865 sq km (720 sq mi) of 3D, and 11,171 km (6,941 mi) of Pre-STM broadband reprocessed data.
Data deliverables are expected to be available in 4Q 2019. Josh Thorp, Geoscience Manager for Searcher, said: "Given the complexity and volume of vintage data involved, the project would not have been possible without support from the Secretariat of Energy and several industry partners who have all contributed data and significant resources to make this project a reality."
05/28/2019