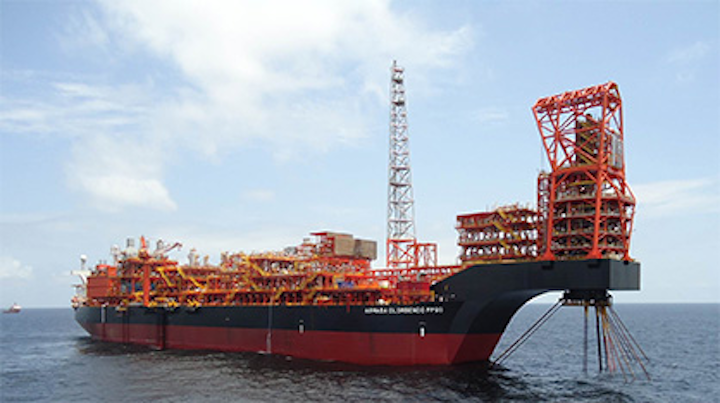 Offshore staff
SAN DONATO MILANESE, Italy – Eni has produced first oil from the deepwater Cabaça South East field in block 15/06 offshore Angola, through the Armada OlombendoFPSO.
Start-up was five months ahead of schedule and three years from the development plan.
The East Hub development project includes nine subsea wells, five producers and four water injectors, in waters depth ranging from 450 to 550 m (1,476 to 1,804 ft). It is about 350 km (218 mi) northwest of Luanda and 130 km (81 mi) west of Soyo.
TheArmada OlombendoFPSO can generate up to 80,000 b/d of oil and compress up to 3.4 MMcm/d of gas.
Production from the East Hub project will add to production from the existing West Hub project, which includes the Sangos,Cinguvu, Mpungi, Mpungi North, Ochigufu, and Vandumbu fields connected to the N'GomaFPSO.
In total, block 15/06 will reach a peak of 150,000 b/d of oil this year.
Eni CEO Claudio Descalzi said: "We are proud of what we have achieved in block 15/06. Leveraging our extensive experience in exploration, we have been able to discover a total of 3 Bbbl of oil in place through 10 commercial discoveries.
"Moreover, thanks to strong field development and project management, we are beginning production of the East Hub with a time-to-market of only three years, and five months ahead of schedule. Cabaça South East brings our number of fields in production to five, with two more expected to start before the end of 2018."
Block 15/06 is operated by Eni with a 36.84% share, in partnership with Sonangol Pesquisa e Produção (36.84%) and SSI Fifteen Ltd. (26.32%).
02/08/2017