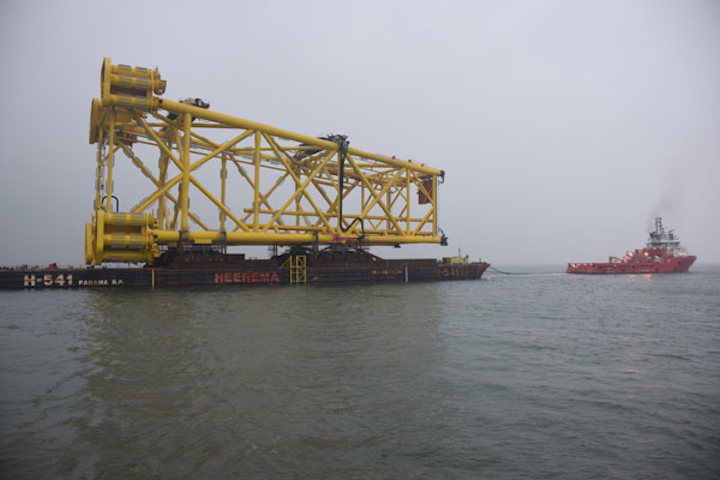 Offshore staff
VLISSINGEN, the Netherlands – Two of the jackets for Maersk Oil North Sea UK's Culzean field platforms have departed the Heerema Vlissingen yard.
The jacket for the central processing facilities platform (CPF) sailed on June 28 followed today by the jacket for the utility and living quarter platform (ULQ).
In September 2015,Heerema Fabrication Group (HFG) completed the procurement and construction contract for the Culzean wellhead platform jacket, wellhead access deck and access ways.
Maersk Oil then awarded HFG a second EPC contract for the remaining two jackets. Fabrication started in January 2016 with all locations of HFG involved.
HFG Engineering was responsible for engineering of the grillage and sea fastening for the jackets and piles. HFG Polska built the jacket appurtenances and pre-fabricated the grillages and sea fastening.
Heerema Zwijndrecht handled fabrication of two pile sleeve clusters of the CPF jacket and pre-assembly of half of the ULQ jacket leg parts, while Heerema Hartlepool built the four pile sleeve clusters of the ULQ jacket and two pile sleeve clusters of the CPF jacket.
At the Vlissingen yard, the two jackets were fabricated and assembled. Both jackets are around 115 m (377 ft) tall with a foot print of 38 x 38 m (124 x 124 ft).
The CPF jacket has a top of 24 x 30 m (79 x 98 ft) and a weight of 8,388 metric tons (9,246 tons), while the top of the ULQ jacket is 24 x 24 m (79 x 79 ft), with this jacket weighing 7,181 metric tons (7,915 tons).
Culzean, discovered in 2008, is an HP/HT field in the UK central North Sea, 250 km (155 mi) east of Aberdeen in license block 22/25a.
Water depth is 88 m (289 ft) with the reservoir around 4,300 m (14,107 ft) below sea level.
Development is based around a wellhead platform, a central processing facility platform and a separate utilities and living quarter platform. All three will be interconnected by two bridges, each roughly 100 m (328 ft) long.
First gas is due out in 2019.
07/07/2017