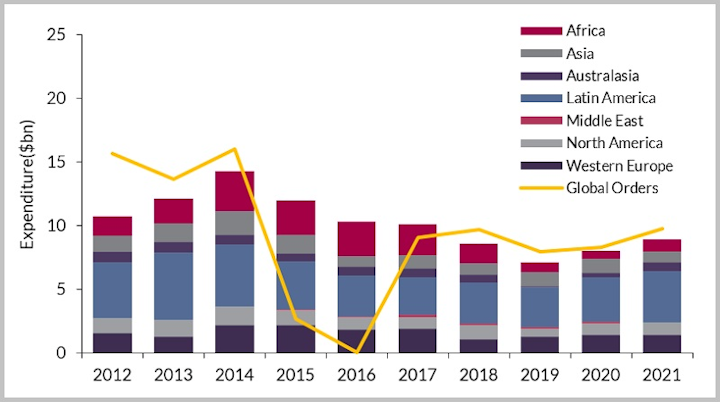 Offshore staff
FAVERSHAM, UK – Demand for floating production systems is growing, according to Westwood Energy's updated World Floating Production Systems Tracker.
Capex for both installations and orders has increased by 12% and 22% respectively, compared to findings of the 1Q 2017 edition.
Westwood now estimates an order backlog of $45 billion and installation expenditure of $57 billion between 2017 and 2021. This is due to increased confidence in the market and lower field development costs.
To date this year 10 floaters have entered service, including high-capex units ordered prior to the downturn such as theP-66 and Armada Olombendo.
Eleven floating production systems have been ordered this year, headed by theLiza and Sépia FPSOs and the Mad Dog Phase 2 semisubmersible.
Latin America will remain dominant in the sector, Westwood believes, accounting for 32% of capex and 36% of installations. Much of this will be directed at Petrobras' fields in water depths of up to 1,000 m (3,280 ft), for units ordered in 2010 and which are still to be installed.
However, installation expenditure will be more than $5 billion across Africa, Asia, North America, and Western Europe.
11/10/2017