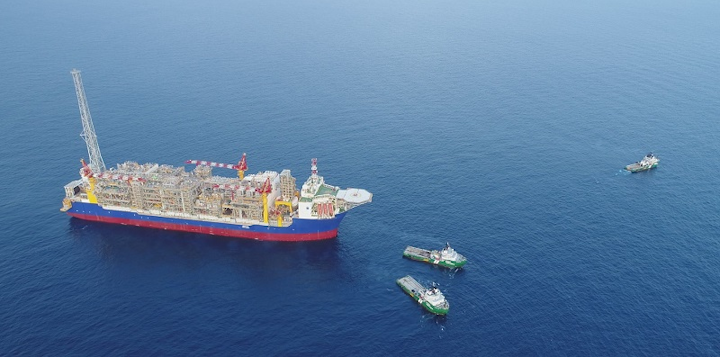 Offshore staff
PERTH, Australia– The INPEX-operated Ichthys LNG project has reached another major milestone with the safe arrival of FPSOIchthys Venturer in Australian waters.
The 336-m (1,102-ft) long, 59-m (193-ft) wide ship-shaped, weather-vaning facility will be permanently moored in the Browse basin about 220 km (137 mi) offshore Western Australia.
Louis Bon, managing director of the Ichthys project, said: "The safe completion of the 5,600-km [3,479-mi], 26-day tow of theIchthys Venturer from South Korea to Australian waters is another significant stride forward for the Ichthys LNG project.
"TheIchthys Venturer is one of the largest and most advanced offshore facilities of its kind in the world, and it can accommodate up to 200 people. The FPSO has been designed to hold 1.12 MMbbl of condensate and operate for 40 years in a cyclonic environment, setting new benchmarks for durability."
TheFPSO joins the project's central processing facilityIchthys Explorer, which was recently moored in the Ichthys field. Once the Ichthys Venturer is moored in 250 m (820 ft) of water, hook up and commissioning will begin.
The FPSO will process, stabilize, and store the condensate delivered from theIchthys Explorer before periodically offloading it to tankers for export to market.
According to INPEX, the Ichthys LNG project is expected to produce up to 8.9 MM metric tons of LNG per annum and 1.65 MM metric tons of LPG per annum, along with about 100,000 b/d of condensate at peak.
08/14/2017