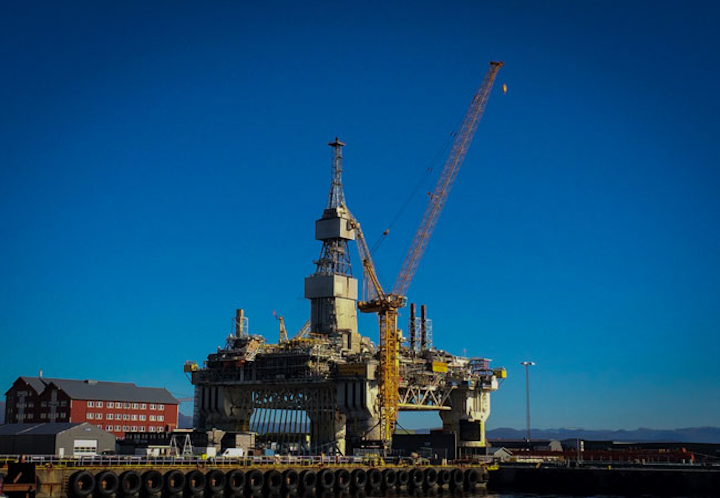 Offshore staff
STAVANGER, Norway – Statoil has contracted Kvaerner for a comprehensive upgrade of the Njord Asemisubmersible platform that serves the Njord field in the Norwegian Sea.
Kvaerner estimates the contract, valued at NOK5 billion ($590 million), will generate around 3,000 man-years of work.
Last year, theNjord A was disconnected and towed ashore to Kvaerner's Stord yard, with the storage vessel Njord Bravo also towed ashore and placed quayside in Kristiansund. Both installations will now be upgraded for recovery of the remaining resources from current and future fields in the Njord area, with the platform due to resume operations in 2020.
The platform will stay in dry dock at Strod until the fall for extension and reinforcement of the hull. It will subsequently lie alongside the quay for further reinforcement and upgrading work in the run-up to delivery in 2020.
Statoil says the contract award remains conditional on approval of the plan for development and operation for Njord, due to be submitted soon to the Norwegian authorities.
Kvaerner President and CEO Jan Arve Haugan said: "This is one of the most important contracts in the market this year."
Following several years of adjustments, the Norwegian oil and gas contracting industry has managed to achieve cost reductions combined with increased productivity, and Haugan claims this award is a result of the higher degree of cooperation between oil companies and suppliers for improvements.
"We notice that the efforts to strengthen competiveness are yielding results," he said. "Costs have been substantially reduced, which in turn has contributed to make investments decisions like this possible."
Last April,Statoil and Kvaerner signed a framework agreement for upgrading of the platform, based on a project execution plan under which Statoil, on behalf of the license partners, has an option to call-off the execution of further phases.
Kvaerner has since been awarded options for front-end engineering and design (FEED), a yard stay for theNjord A platform at Stord following its disconnection from the Njord field, and a pre-EPC phase valued at NOK500 million ($59 million).
Today's award covers a full upgrade of the hull and topsides, with a view to the Njord complex producing oil and gas for several more decades.
Kvaerner also built the platform, which had been operating since 1997, at Stord and Verdal.
Jarle Henriksud,Njord Future project director, said: "Although we know the Njord platform well from the time when we constructed it, this is an untypical project, as it is an upgrade job involving removal of old equipment and materials in parallel with fabricating and installing new ones."
The remodeled platform is scheduled to be delivered in spring 2020. Kvaerner also has an option for the offshore hook-up when theNjord A is back in the field.
Aker Solutions will provide design engineering for the upgrading of the semisubmersible platform under subcontract to Kvaerner. Its share of the work is valued at around NOK1 billion ($118 million).
The Bergen office of Aker Solutions will perform the engineering with support from the company's division in Oslo, working as part of an integrated team with Kvaerner.
Previously Aker Solutions undertook concept and feasibility studies and FEED work for the Njord upgrade. Its agreement with Kvaerner includes an option for prefabrication work.
03/17/2017