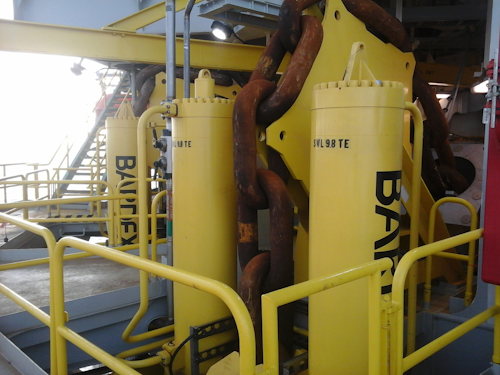 Offshore staff
HOUSTON –Bardex has been working on the Chevron USA Inc.-operated Jack/St. Malo semisubmersible floating production unit (FPU), now moored on location in the deepwater Walker Ridge area of the Gulf of Mexico. The six steel catenary risers (SCRs) for the first stage of development have been pulled in and landed on the facility.
Bardex supplied the linear chain jacks for the 16-line mooring system that secures the Jack/St. Malo FPU on location. Each chain jack is rated to 8,000 kN stall and operates with a top chain size of 165 mm R4S grade. The chain jacks were powered by a Bardex-designed hydraulic power unit comprising four 350-hp electric motor/pump assemblies.
In addition to designing and supplying the mooring tensioning system, the company worked with Oil States Skagit SMATCO to design and manufacture the complete SCR pull-in system, comprising a gimbal-mounted Bardex linear chain jack designed to pull 1,135 metric tons (1,251 tons) that, in turn, was integrated with a Bardex-powered windlass for subsequent chain handling.
Multiple Bardex gripper jacks were used to position the SCR pull-in module and the Oil States Skagit SMATCO work wire winch and chain locker/handling assembly in the correct locations and at the correct angular "heading" around the facility moonpool.
Oil States Skagit SMATCO manufactured and supplied a chain windlass, the main work wire pull-in and auxiliary winches, and both companies fabricated main structural assemblies associated with their respective equipment.
The complete system was powered by a Bardex-designed HPU/diesel generator and controlled from automated PLC controls positioned in a central control cab. The system was fully functional and dynamically load tested at the Oil States Skagit SMATCO Houma, Louisiana, test facility before installation on the Jack/St. Malo FPU.
The mooring installation and SCR pull-in work were completed safely and without incident.
04/24/2014