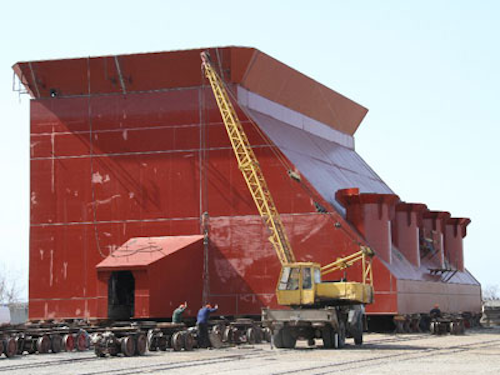 Offshore staff
ASTRAKHAN, Russia – The LOTOS shipyard has completed construction of two platform supporting blocks commissioned by LUKOIL.
They were designed for the ice-resistant stationary platform (IRP-1) under construction for theVladimir Filanovsky field development in the Russian sector of the Caspian Sea.

Both blocks, with a combined weight of about 5,000 tons, will be towed offshore and fixed to the seafloor via 20 piles, each more than 2 m (6.6 ft) in diameter.

The blocks are 28.3 m (93 ft) long, 23.7 m (78 ft) wide, and 16.4 m (54 ft) tall. The piles will be hammer-driven to a depth of 60 m (197 ft) and expanded across the pile guides of the supporting block to help ensure the structures can withstand anticipated ice, wave, and earthquake effects.

Astrakhan Shipbuilding Production Association is fabricating the platform's topsides, which will be placed on the supporting blocks in mid-2014.

IRP-1 is a drilling and production platform which will include facilities for drilling 11 directional wells with a horizontal borehole ending; transportation of production to the central processing platform (CPP); and power generation. Its total weight will be 15,200 tons. It will be bridge-linked to the living quarters module and the CPP.
4/15/2013