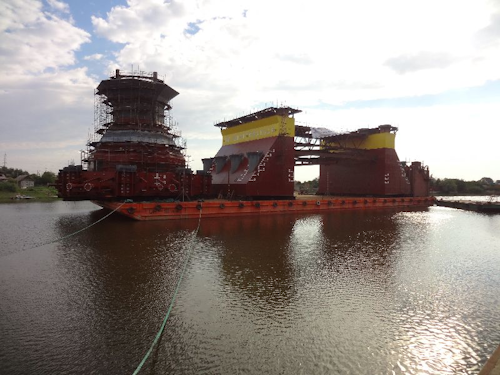 Offshore staff
ASTRAKHAN, Russia – Platform substructures were due to be towed last week to the LUKOIL-operated Vladimir Filanovsky field in the Russian sector of the Caspian Sea.
The structures will support theliving quarters module platform (LQP-1) and riser block (RB).
On arrival, the facilities were due to be fixed to the seafloor, close to the substructures for theice-resistant stationary platform (IRP-1).
The LQP-1 substructures, weighing over 2,000 tons, will be secured via 16 piles driven 60 m (197 ft) into the seabed. The RB substructure will be secured via eight 2-m (6.5-ft) diameter pillars.
All are being assembled by a transport and installation barge with a crane load capacity of 400 tons.
Next step is assembly of the substructures for the central processing platform (CPP), followed next year byinstallation of the topsides for IRP-1, LQP-1, RB and CPP, and their connecting bridges.
Yards in Astrakhan are building all the Vladimir Filanovsky field facilities. Development drilling should start next year with first oil scheduled for 2015.
7/30/2013