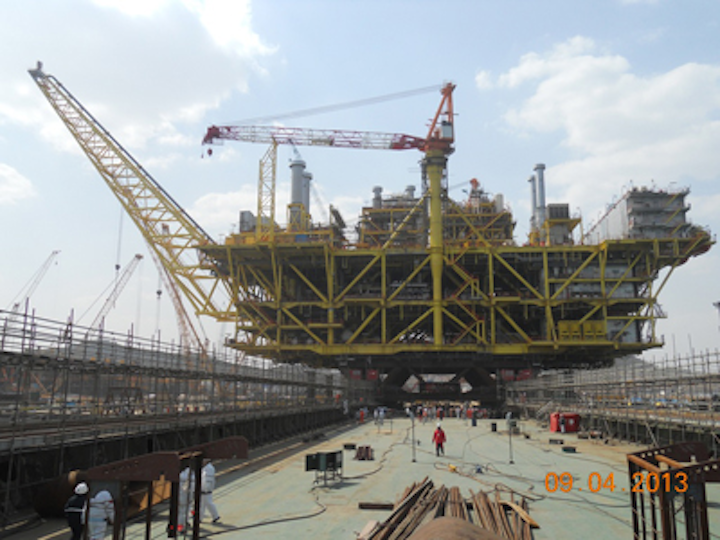 Offshore staff
CALGARY, Canada --The CNOOC-operated Liwan gas project is progressing to first production.
According to partner Husky Energy, the 30,000-metric ton (33,069-ton)topsides for the central platform are installed on the jacket in the South China Sea. All nine wells at Liwan 3-1 are completed and ready for production.
Work continues on the deepwater facilities to connect the wells and finish installation of 79 km (49 mi) of pipelines to the platform. Around 260 km (161 mi) of the shallow water section of the pipeline from the central platform to the onshoregas plant is now completed.
The partners have signed a contract for the gas from theLiuhua 34-2 field. All the initial planned production from both Liwan 3-1 and Liuhua 34-2 are now covered by sales agreements, although negotiations continue for the Liuhua 29-1 field.
Offshore Indonesia, Husky (TXS:HSE) has approval from the government for infrastructure contracts for the shallow-water BD gas field in the Madura Strait, with a tender under evaluation for an FPSO. Additionally, the company has submitted tender plans for the MDA/MBH field for government review, in line with the Plan of Development approved earlier this year.
At the North Amethyst field offshore Eastern Canada, Husky says a newly drilled water injection well should enter service this summer, bringing the total number of wells in operation to eight.
Work is under way on a wellhead platform option for the West White Rose Extension project – Husky is preparing a development application for the field.
7/29/2013