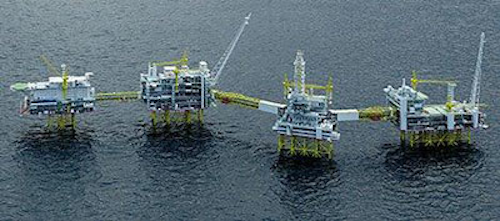 Offshore staff
OSLO, Norway – The Norwegian government has submitted a proposition to the country's parliament (Storting) for the first-phase plan for development and operation (PDO) of the Johan Sverdrup field in the central Norwegian North Sea.
This will be the largest development on the Norwegian shelf since the PDO was submitted for Oseberg in 1984. Total investments for the first phase, including the transport systems, are estimated at NOK 117 billion ($15.27 billion).
However, the Norwegian Petroleum Directorate's own cost estimate is around NOK 10 billion ($1.3 billion) higher at current prices than the figure in the PDO (although within the uncertainty range of plus/minus 20% indicated in the development plan). This is mainly due to the fact that production will likely be delayed by six months.
Start-up is now scheduled for December 2019, and production could continue for around 50 years, with anticipated recovery of 352 MMcm of oil – tantamount to an oil recovery rate of 63% – and 13.1 bcm of gas.
Operator Statoil has shown that various measures can lead to improved recovery, and NPD has encouraged the licensees to adopt measures that would help this process.
For instance, the PDO advocates use of alternating water and gas injection. Adding polymer to the injection water is another measure that could lift recovery.
The volumes of oil and gas and the size of the field will require drilling of large numbers of wells, NPD points out. Thedrilling platform will therefore have ample available well slots to allow more wells to be drilled later on.
A decision was taken for the facilities to have available weight and space capacity to accommodate further equipment at a later date.
NPD has also pressed for measures to reduce emissions to air and discharges to sea. Produced water will be cleaned and re-injected into the reservoir – this, combined with thepower supply from shore, should make Johan Sverdrup the field with the lowest emissions to air and discharges to sea throughout the Norwegian continental shelf.
04/28/2015