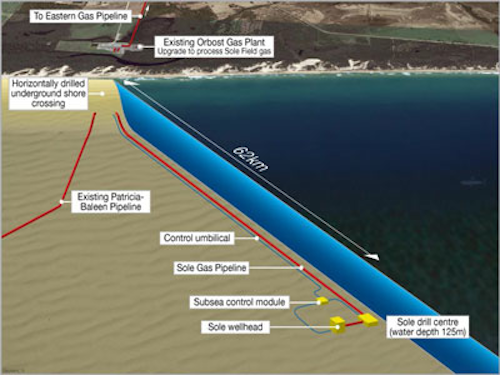 Offshore staff
ADELAIDE, Australia – Cooper Energy (ASX:COE) has signed a heads of agreement (HoA) with glass container manufacturer O-I Australia for the sale of gas from the Sole field development in the Gippsland basin offshore Victoria.
This is the first supply agreement for Sole, currently undergoing front-end engineering and design ahead of a final investment decision, expected in September 2016.
The HoA covers the supply of one petajoule/r of gas for eight years, or the life of the field, and comprises 8% of Cooper's share of Sole's anticipated production. First deliveries to O-I Australia could begin in January 2019.
Cooper has 50% interests in the field and the onshore Orbost terminal that will receive the gas. Santos is the other partner.
Sole is in the VIC/RL3, 62 km (38.5 mi) from the Orbost Gas Plant. Development will likely include a subsea drill center with gas exported to Orbots via a subsea pipeline.
08/03/2015