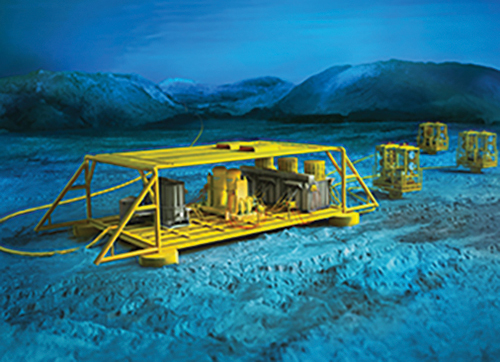 Subsea Integration Alliance nets
SNE Phase 1 FEED contract
Woodside Energy and its partners have agreed to initiate front-end engineering design (FEED) for the deepwater SNE oil field development offshore Senegal. This follows the award of the subsea FEED contract for Phase 1 of the project to the Subsea Integration Alliance of OneSubsea, a Schlumberger company and Subsea 7.
Woodside, recently approved to assume the role of operator by the Senegalese Minister of Petroleum, expects further FEED contracts to follow in early 2019.
SNE will produce through a 100,000 b/d-capacity FPSO and subsea infrastructure, with the facilities designed to accommodate future development phases, including options for gas exports to shore and subsea tiebacks from other reservoirs and fields. Phase 1 will target around 230 MMbbl of oil with 11 producing wells, 10 water injectors and two gas injectors. Start-up should follow in 2022.
Initial subsea power test delivers promising results
Siemens has finished the first phase shallow-water test of its Subsea Power Grid in Trondheim, mid-Norway. The company, in collaboration with Chevron, Equinor, ExxonMobil, and Eni Norge, is in the final stages of a program of developing what it claims will become the world's first seafloor power grid designed for distribution of medium voltage power using pressure-compensated technology.
Frode Tobiassen, Head of Subsea at Siemens, said: "There will be more subsea compressors, pumps, processing plants, and in the future entire production facilities placed on the seabed, all of which require power."
The Subsea Power Grid will be the world's first seafloor power grid designed for distribution of medium voltage power using pressure-compensated technology. (Image courtesy Siemens)
The Subsea Power Grid facilities comprise a subsea transformer, subsea switchgear, subsea variable-speed drive, subsea wet mate connectors, and a remote control and monitoring system that includes cloud-based user dashboards and data analytics.
According to Siemens, the technology will enable subsea processing with multiple seabed power consumers. Potential applications include support for enhanced recovery in subsea brownfield projects and tiebacks, with single- or multi-phase boosting to increase oil recovery.
During the initial test phase at Siemens' test site in Trondheim, the system operated in a ring loop topology at full load and a test/verification program was run. Initial test results were positive with all components operating within their design parameters. The next phase will involve an extended shallow-water test to build operational experience and verify long-term reliability. Siemens' goal is to accumulate 3,000 hours of runtime on the equipment while undertaking further tests.
In parallel, preparations are progressing for a deepwater pilot program under which the equipment will be installed and used on a subsea field.
Åsgard subsea compressors pass performance milestone
The subsea compression trains at the Equinor-operated Åsgard field in the Norwegian Sea have delivered 50,000 operational hours with an availability of close to 100%.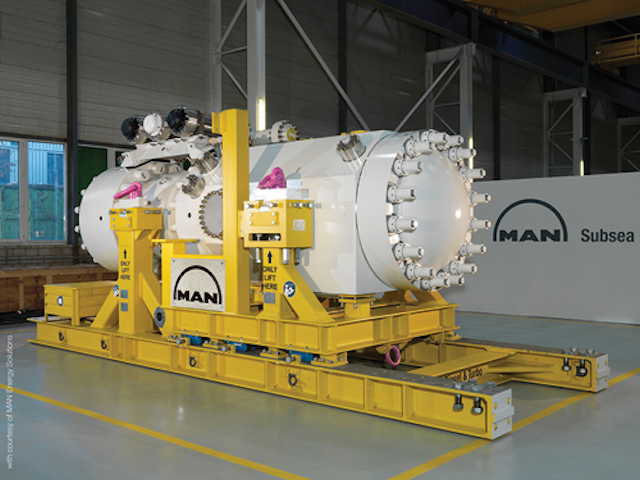 The Åsgard subsea gas compression facility features two HOFIM motor-compressor units. (Courtesy MAN Energy Solutions)
In 2015, Åsgard became the world's first subsea gas compression facility to enter service, 300 m (984 ft) subsea, and featuring two HOFIM motor-compressor units supplied by MAN Energy Solutions Switzerland.
Previous analysis had suggested that by the end of 2015 the pressure in Åsgard's reservoirs would have been too low to ensure stable flows and satisfactory production, hence the need for compression.The MAN units should help extend the reservoirs' productive life for another 15 years, delivering around 282 MMboe. •