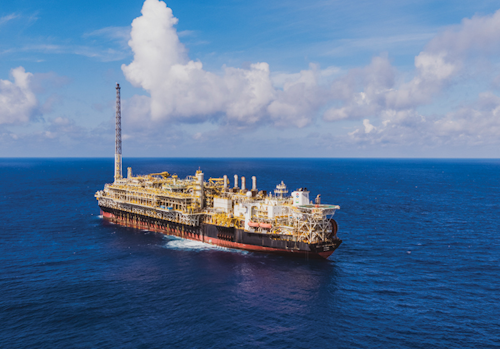 Industry moving toward standard specifications
Jeff Dice, Endeavor Management
This author'sfirst FPSO experience began in the mid-1990s, and the assignment offered several key lessons. That first project involved the conversion of an old tanker into an FPSO on an incredibly short schedule. Based on the commercial success of that field, the industry had an opportunity to improve risk acceptance of conversions and short schedules. More than two decades later, that field is still producing, and the FPSO industry still has opportunity for improvement.
With WTI crude prices fluctuating around $50/bbl, there continues to be a push to advance cost-effective field development options for oil-rich discoveries, and FPSOs have proven to be effective solutions in a wide range of water depths. Effective use of FPSOs depends upon several key aspects, including strategic decisions, project delivery, re-deployment and hull design, process and module design, mooring and offloading, and operational considerations.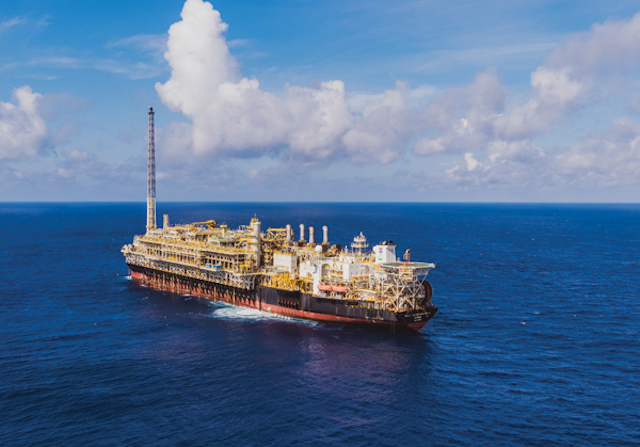 Full field development example: FPSOCidade de Itaguai MV26 offshore Brazil. (Courtesy MODEC)
Strategic decisions
Selection of the FPSO as a development solution has become more widespread, but strategic decisions made in conjunction with FPSO concept selection impact a range of performance parameters during both project execution and the life of the field. Two of the most important strategic decisions are definition of:
• Technical specifications
• Whether to lease or to own.
After years of being driven by detailed company specifications developed by major operators with low risk tolerance, the offshore oil and gas industry is moving to standard industry specifications that may not yet be fully developed. The decision to own or lease an FPSO is affected by a number of factors which include access to cash, cost of financing, expected period of production, and control of operations with the associated risks.
Project delivery
Project delivery addresses three major issues associated with successful delivery of FPSO projects including:
• Project organization
• Interface management
• Change management.
FPSO projects have distinctive characteristics such as storage and offloading with strong marine industry links that are significantly different from other floating production systems, and which require specific resources and organization to properly manage and deliver successful projects. The integration of these resources into the overall project team is critical for success in terms of schedule, budget, and risk management.
Effective management of interfaces is a critical success factor for delivering any project. The effort required to do this increases exponentially with complexity. FPSOs are on the high end of the complexity spectrum due to the multiple functional requirements spread across several contractors and multiple equipment suppliers.
Change during FPSO projects is a given, and failure to accept, recognize, plan for, and respond to change can be attributed as one of the greatest contributors to adverse FPSO project performance. The impacts can be very visible and predictable or hidden and appear indirectly. Most of these factors have a negative effect on the project cost, outcome, and stakeholder relationships. The development of a robust change management system is a requirement for a successful FPSO project.
Redeployment and hull design
A major early decision for the FPSO will be whether the hull is based on a converted tanker or a newbuild FPSO specific design. Conversion is dependent upon availability of a tanker of sufficient size to meet storage requirements, whereas newbuilds may be customized for the application.
Whether newbuild or conversion, a suitable FPSO hull must account for the required storage volume, cargo/ballast handling systems, topsides weight, weather at location, regulatory constraints, on‐station repairs and maintenance over the full operating life, and tank/skin protective configuration.
Class can play an important role in conformance with regulatory and Flag State requirements for an FPSO. A strategy for Class or alternative means of marine assurance and marine regulatory approval must be in place as part of hull selection and design.
Because they are highly autonomous floating systems, FPSOs offer high potential for relatively simple removal and relocation compared to most other production system alternatives. As examples, the industry's second FPSO (FPSO II, SBM) is now on its fourth location after an initial 11‐year deployment and Petrojarl I (Teekay) commenced production in May 2018 on its 12th redeployment.
Process and module design
The FPSO industry seems to have settled on common designs for the separation of oil, water, and gas with only a few modifications in the basic design to handle unique reservoir conditions. This leaves the design of the process system on the FPSO focused on three major areas:
• Vapor recovery
• Gas handling (and disposal)
• Water treatment/injection.
The global trend toward reducing greenhouse gas emissions has created the need for FPSO operators to develop and use methods to minimize emissions from vapor recovery, tank inerting, and gas disposition once it has been recovered.
In addition, country regulations are becoming more stringent regarding the overboard disposal of process water and reducing the acceptable levels of oil in water, as well as regulating other constituents in the produced water discharged to sea.
FPSO process module design addresses three major areas associated with the design, installation, and placement of the process system modules on the FPSO. These are:
• FPSO operability
• Crew safety
• Installation and interfaces considerations between the hull and the process modules, which need to be addressed during the design of the FPSO.
Mooring and offloading
Once an FPSO is selected as the field development option, a key decision will be related to the selection of mooring, risers/umbilicals, and associated oil export offloading system. Important considerations associated with this decision include the operational location, disconnect strategy, field architecture and associated turret/fluid swivel system, and type of export tankers.
Operational considerations
Most FPSO operating procedures are similar and can be applied to FPSO operation in different locations and under different jurisdictions. Developing and implementing generally acceptable standard operating procedures could achieve safer operations, considerable cost savings, greater operational efficiency, uncertainty reduction, savings in time, effort and man hours, greater ease of crewmember transfer from one FPSO to another, and would result in a reduction of operating risks – i.e. improved risk management.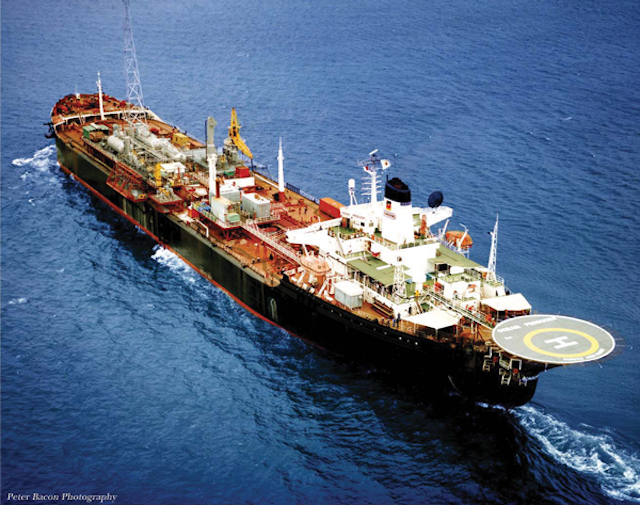 Marginal field development example: FPSOOcean Producer offshore Angola. (Courtesy Endeavor Management)
Next steps
With all these opportunities for improvement, the industry seems poised to capture FPSO best practices and apply them to future projects. These best practices could lead to FPSO industry standards. Having recognized this, Endeavor Management has organized a joint industry project to seek out the best practices for FPSO projects from those with the experience to share with the industry. The goal of this JIP is to define and organize the best practices across the participant group and give the participants access to industry knowledge and thereby improve industry performance. Endeavor has developed a three-stage process that will be applied to this FPSO Best Practices JIP.
The first stage will gather JIP participant subject matter experts (SMEs) to input their practices on the topics listed here. The second stage will have Endeavor expert advisors compile and delineate the practices for all topics and present back to participant SMEs for review. The third stage will be creation of a report across all topics in a form as will be useful for future participant use. Using this kind of in-depth knowledge along with early engineering, operators can significantly improve perform FPSO project outcome. This FPSO Best Practices JIP is currently being offered to the industry.
Although the successful design and implementation of an FPSO on a project is a result of a multitude of decisions and tradeoffs for the operator, experience has proven that using lessons from past projects helps successful completion of current and future projects. Except for a few major operators and leased FPSO providers, FPSO projects do not come along very often for individual companies, and improving performance is hard to do without some history from which to learn. Hopefully, the industry can both create and apply FPSO Best Practices to create competitive projects. •
The author
Jeff Dice, PE, PMP has 28 years of experience as project manager and structural engineer, providing field development, project management, design assurance, structural analysis and design, fabrication support, installation management, planning/scheduling, and cost estimation for FPSO and other offshore projects.