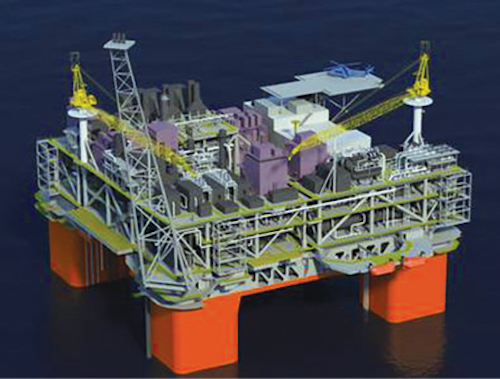 Bruce Beaubouef
Managing Editor
Except for a few notable projects, field development activities in the US Gulf of Mexico have been few and far between in recent years. While other offshore regions have begun to emerge from the market downturn, the US GoM has not seen the type of renewed activity that is evident in the North Sea, and in the Asia/Pacific and Middle East regions.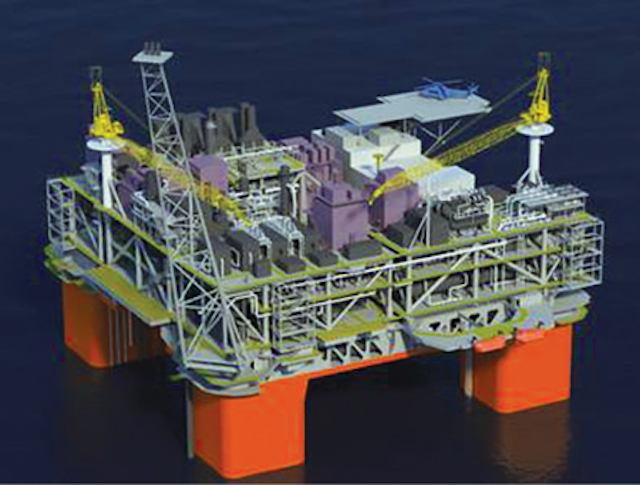 A simplified and standardized platform design has reduced the overall project cost by about 60%. (Courtesy BP)
Still, there are those who are bullish on the US Gulf's long-term future. BP's Mad Dog Phase 2 project is moving forward toward first oil in late 2021. After the cost estimate of an initial design reached more than $20 billion, BP, BHP Billiton, and Chevron embarked on a recycle of the Mad Dog Phase 2 project in 2013. Three years later, the co-owners and contractors produced a simplified and standardized platform design that reduced the overall project cost by about 60%. In December 2016, operator BP sanctioned the leaner $9-billion project in the deepwater Gulf of Mexico. At that time Bob Dudley, BP Group CEO, said: "This announcement shows that big deepwater projects can still be economic in a low-price environment in the US if they are designed in a smart and cost-effective way."
The Mad Dog Phase 2 development plan includes a new semisubmersible floating production platform with the capacity to produce up to 140,000 b/d of crude oil from 14 production wells and inject up to 140,000 b/d of water using a LoSal system to enhance oil recovery.
The second Mad Dog platform will be moored in the Green Canyon area about 6 mi (10 km) southwest of the existing Mad Dog platform, which is in 4,500 ft (1,372 m) of water about 190 mi (306 km) south of New Orleans. Discovered in 1998, Mad Dog began production in 2005 from a floating truss spar facility that is designed to produce up to 80,000 b/d of oil and 60 MMcf/d of natural gas. Continued appraisal drilling in the field during 2009 and 2011 doubled the resource estimate of the field to more than 4 Bboe, spurring the need for another platform at the field.
Shell is also advancing its Appomattox project with a goal of first oil by 2020. The company revamped its deepwater strategy to fit the needs of a low oil price environment, and Shell says that the Appomattox project is a key example of how the company is keeping deepwater not only profitable, but also competitive with onshore projects.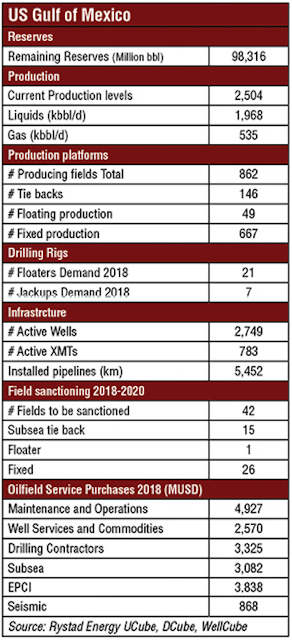 With the completion and arrival of the hull in Texas, and construction of the host platform and fabrication of subsea infrastructure currently underway, the Appomattox project is more than 65% complete.
Since sanctioning the project in 2015, Shell has been able to reduce its capital expenditures on the project by 40%. It has done this by increasing the efficiency of the project's design, its scope, and by working to bring its drilling costs down. Taken together, Shell has been able to bring break-even prices on the Appomattox project down to levels that are much more competitive in the current market.
The Appomattox development is located some 80 mi (129 km) offshore Louisiana, in 7,400 ft (2,195 m) of water. It will initially produce from the Appomattox and Vicksburg fields, with average peak production estimated at 175,000 boe/d Shell-share. Nexen Petroleum Offshore, a wholly owned subsidiary of CNOOC, is Shell's partner on the project.
The final investment decision for the project was taken in July 2015. The project calls for a semisubmersible, four-column production host platform; a subsea system featuring six drill centers; 15 producing wells; and five water injection wells. The infrastructure at the project site will have a design capacity ranging between 120,000 boe/d and 200,000 boe/d.
Elsewhere in the Gulf, Shell has awarded a couple of contracts on its proposed Vito development. Although the project has yet to receive final sanction, Shell is moving forward with some of the early engineering designs and planning. Jacobs Engineering Group has been selected to deliver a front-end engineering and design package and detailed engineering for the Vito host platform topsides. Sembcorp Marine Ltd. has signed a letter of intent for the construction of the hull and topsides as well as the integration of the Vito floating production unit. Comprising a single topsides module supported by a four-column semisubmersible floating hull, the Vito FPU will be designed with a throughput capacity of 100,000 b/d of oil and 100 MMscf/d of gas.
The final contract award depends on Shell and its partners sanctioning the project. Discovered in 2009 about 150 mi (241 km) south of New Orleans, Vito is in more than 4,050 ft (1,234 m) of water in Mississippi Canyon block 984. The Vito host would initially handle production from the Vito subsea field being subsequently developed, with potential for future tiebacks from other fields.