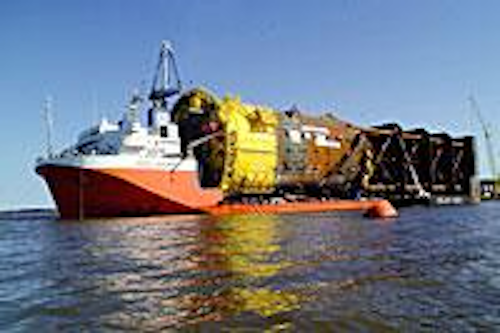 Paul Eastaugh
Contributing Editor
Technip-Coflexip's Mäntyluoto recently celebrated the completion of Horn Mountain Truss Spar, the newest Spar platform bound for the Gulf of Mexico. The 13,200-ton structure was built at its Pori, Finland, yard, requiring 500 man-years of labor to cut, shape, and weld. The 170-m long structure set sail for the Gulf aboard Dockwise's Mighty Servant heavy transport vessel.


This was the latest in a series of Spar construction projects that will keep the Finnish company busy at least through 2004. The Mäntyluoto workforce has also assembled five other Spar platforms that are currently serving fields in the Gulf of Mexico.
The Horn Mountain Spar was initially ordered by Vastar, which was subsequently acquired by BP. The newly built hull, complete with mooring systems, sailed to Corpus Christi, Texas, where one of Technip-Coflexip's American affiliates, Gulf Marine Fabricators, is completing the Spar's topsides. The contract for basic engineering and the supply of risers was awarded to CSO Aker Maritime in Houston. By September, the finished Spar is due to be operational on BP's Horn Mountain oil field in Mississippi Canyon blocks 126 and 127, 250 km southeast of New Orleans. The 14-slot platform will be moored via nine chain/wire lines with suction anchors in 1,650 m of water, the deepest water to date for any dry tree production Spar. It will be equipped to handle 65,000 b/d of oil and 70 MMcf/d of gas.
Holstein to follow
Celebrations at the yard were stepped up when Managing Director Ikka Saarni informed the assembled employees and contractors that the company had also received the go-ahead for the next Spar hull in BP's Gulf of Mexico development program. Construction of the Holstein hull will follow close on the heels of Kerr-McGee's Gunnison Spar, which is already taking shape inMäntyluoto.
Giant steel Spar segments weighing some 2,000 tons apiece were at various stages of manufacture in the fabrication workshops. They are destined for delivery as a complete hull in 3Q 2003. This unit will be Kerr-McGee's third Truss Spar, and it will be installed in 950 m of water on the Gunnison field, 250 km southeast of Galveston.
Although the Holstein order was not unexpected, given BP's requirement for up to five Spars, nothing is more reassuring to a workforce than a signed purchase order. In the face of competition from yards in low wage countries in the Far East,Mäntyluoto has had to fight to keep the orders coming in. According to Tommi Matom
"We operate an in-house quality control system that maintains the welding standard of each welder," he explained. "Consequently, we are very good at welding, with defects at less than 1%. This is better than the 1.75% standard set by the customer." The sheer quantity of welding work demanded by a project such as the Horn Mountain Spar is reflected in the 450 tons of welding rods used on the job.Mäntyluoto 's welding capability is reinforced by a production system that records every weld on computer along with the identity of the welder responsible for it. If defects are found, the system makes it possible to ensure that the welder is retrained to the required standard.
The construction team had been working with AP42 TM and Grade 36 steels that were supplied on a just-in-time basis from a local Finnish steel mill. With the yard being less than 400 mi south of the Arctic Circle, the climate demands that virtually all cutting and fabrication work is conducted inside the 40,000-sq-m workshops where the newly arrived steel is sand blasted and treated with primer prior to oxygen or plasma arc cutting. Cutting is followed by beveling of the plate edges before welding gets under way.
The workshops are equipped with a 330-ton heavy lift crane that ensures safe and efficient movement of materials and components inside the building. The yard is equipped to cut steel up to 35-mm thick economically and accurately, and to tolerances of within 3 mm for plates and parts. Advanced 3D measuring technology ensures that the Spar ring sections, weighing 14,000 tons each, are accurate to within 10 mm. The entire 170-m long hull is claimed to be straight to within 50 mm.
A powerful compression bending jig within the fabrication workshop is used to shape the flat panels employed in the hull ring frames, following which the various components are assembled on welding jigs. Two paint shops are available to ensure that all Spar components are treated with surface protection prior to assembly.
After completing six Spar platforms, the Mäntyluoto yard has gained experience that has enabled it to streamline the fabrication of these large and complex structures. It operates two indoor assembly lines from which components are moved outside onto the launch lines and outfitting quay where heavy lift gantries are available to assist with the final assembly. TheMäntyluoto dock has a water depth of 10 m that, although scheduled for deepening before the departure of the Gunnison Spar, presently enables heavy transport ships to dock stern-to so that the completed Spar platform can be pushed onto it by 1,600-mm hydraulic strokes.
It takes six segments to make one hull ring that, in the case of Horn Mountain measured 32.2 m. Five rings were then joined to create the main hull to which the truss section was then added.
Stringent safety procedures are applied at the Mäntyluoto works. A program has also been introduced recently that stresses the importance of cleanliness within the workshop, as this has been found to have a direct benefit in terms of reducing accidents. Employees are also required to give a weekly rating of safety within their section so that everyone maintains an awareness of the factors that can lead to injury and down time.
Thomas Ehret, vice chairman of the management board of Technip-Coflexip and president of the company's offshore branch, said that high standards of engineering and safe and efficient working practices were now a major factor in his company's ability to secure future orders for Spar platforms. "Our main strength compared with the Far East [yards] is an extremely efficient procurement system.
"We have a good relationship with local steel mills, whose production is integrated with our own system, and this enables us to go much faster. Construction here is very complex and the welding is the key. While we have a disadvantage in Finland in terms of man-hour rates for welders and fitters, the introduction of computer technology and the planning of work flow compensates for this."
Another advantage enjoyed by Technip-Coflexip is access to the Truss Spar design originally developed by Deep Oil Technology. This offers significant cost benefits compared with tubular Spars, as the lower truss section of the hull fulfills the same function as a tubular Spar, yet is significantly cheaper to build. The rights for this patented design were acquired equally by Technip-Coflexip and McDermott, who have, in effect, agreed to share their use.
"We see demand for Spars to be fairly steady, with around three to six systems being needed each year," Ehret said. Wariness over FPSOs in the Gulf of Mexico has made Spar platforms the deepwater facility of choice in the region, as they have dry and accessible trees. Expectations are now high in Technip-Coflexip that Spar platforms will soon become established offshore West Africa and later off Brazil.
"I think the Spars in West Africa and Brazil will be bigger than those in the Gulf of Mexico," said Ehret, pointing out that his company was also able to address the opposite end of the market. "Cell Spars use small cells rather than a big structure, and we hope to get a contract [for one of these] in the near future. We have offered this design to customers we know well. It is a cheaper solution for less deep water and can compete with subsea constructions. It is much smaller than other Spars and is suitable for small applications and could be made at our Corpus Christi facility on the Gulf of Mexico using a structural steel approach."
null