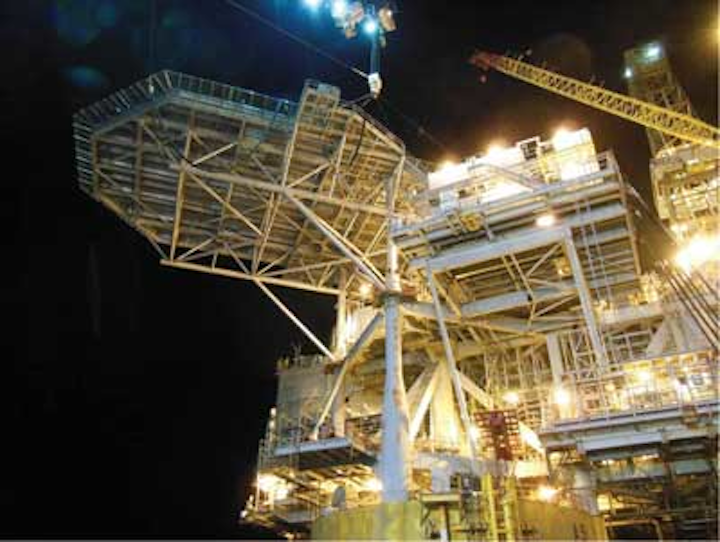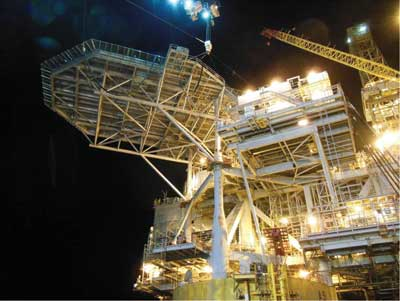 New helideck in service. (Photos courtesy Jacobs Engineering)
Laser scanning, HAZIDS key to successful Cardamom project
Jason D. Cardon
Jacobs Engineering
Floating production projects are continuing to move forward in the Gulf of Mexico (GoM) at a robust pace; and in addition to announced greenfield projects, an increasing number of brownfield developments are being undertaken.
Many of these developments have subsea completions tying back to existing floating infrastructures that serve as host production facilities. These brownfield tiebacks use new subsea manifolds, risers, umbilicals, and flowlines. They can be a preferable option as a means of expanding production capacity or extending the life of existing floating facilities.
Subsea tiebacks optimize capex by using as much existing infrastructure as possible while still trying to maximize the profitability of capital projects.
Brownfield versus greenfield
Brownfield production expansion projects differ greatly from greenfield work. Greenfield topsides facilities can be engineered to be discrete, self-contained modules, capable of being lifted in place onshore and transported as part of an integral floating structure or floated offshore to be lifted into their final position.
Alternatively, brownfield tieback projects often require extensive offshore modifications to the topsides production capabilities on the hub facility. This is especially true if there were previous capacity increases. Brownfield project work can have unique safety issues with project execution being done simultaneously alongside ongoing facility operations. As is the case on greenfield projects, safety precautions and code adherence are important on all brownfield project phases, from front-end engineering and design (FEED) through commissioning.
In modifying or retrofitting an existing structure in brownfield work, engineers and designers must evaluate the existing infrastructure and meld new capabilities conforming to current industry safety standards. Appropriate equipment, industry safety requirements, and increased production capacities often need to be inserted into an existing deck layout in which less suitable equipment is demolished or dismantled to make room for the new additions.
Weight management is also a significant part of a brownfield tieback project. Subsea tieback flowlines and umbilicals, larger production equipment, and additional manpower capacity increase topsides weight, and can alter its center of gravity (Cg), impacting topsides structural stability and hull buoyancy. To maintain the lightest topsides weight and remove weight while making multiple modifications and additions, constant weight monitoring and minimization efforts are required during the design and every subsequent phase of the project.
Shutdowns might be required as some of the brownfield work cannot be done while the platform is in operation, but since extended shutdowns for platform reconfiguration or refurbishment curtail production, time and schedule are of the essence. Extensive front-end planning, constructability assessments, and increased engineering efforts are necessities. New and replacement equipment footprints must be exact. Hazard assessments (HAZIDS) need to be conducted to identify and mitigate potential health, safety and environment (HSE) risks for construction and operating worker safety.
Increased personnel onboard requires constant attention and assessment in order to maintain a safe number of construction workers interacting in close proximity with operating personnel in a facility designed primarily for operations only. Ongoing simultaneous operations reviews (SIMOPS) help operating and construction personnel perform critical tasks while working safely together in confined spaces.
Addressing operations and safety
The Royal Dutch Shell plc-owned and operated Auger TLP facility, producing since 1994 in more than 2,800 ft (853 m) of water in Garden Banks block 426, approximately 225 mi (362 km) southwest of New Orleans, has accommodated seven subsea tiebacks. The most recent, due to be completed in 2014, ties-in the Cardamom development in adjacent block 427 with a subsea system that includes up to five subsea wells, a dual 8-in. flowline, and an umbilical.
In addition to the subsea infrastructure, Cardamom required significant modifications to the existing Auger topsides facilities. Jacobs did the engineering, design, and procurement on the alterations needed to add Cardamom's field production to Auger. The project team was involved in all constructability reviews, HAZIDs, leadership visits, and design/build interface. Major topsides changes required demolition of existing structures including a helideck, motor control center building, high pressure nitrogen storage system, chemical injection systems, and test separator with installations of newer structures and equipment as replacements.
Displaying 1/2 Page 1,2, Next>
View Article as Single page