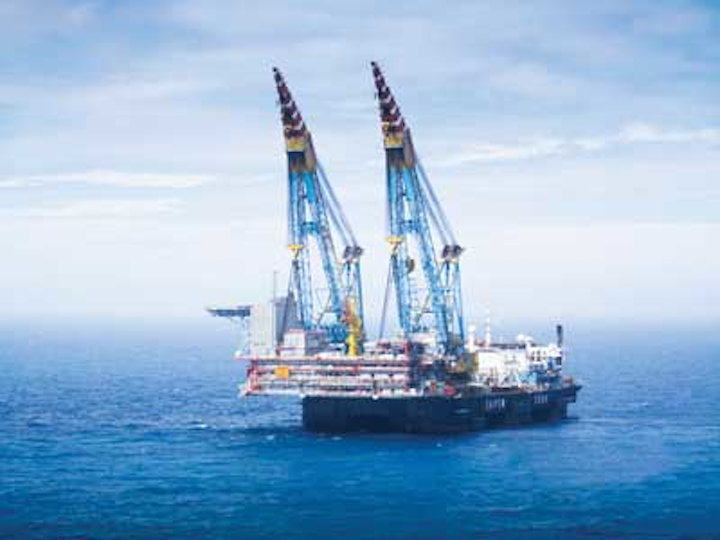 Jeremy Beckman
Editor, Europe
The Norwegian Petroleum Directorate (NPD) is targeting an increase of 1,200 MMcm (42,377 MMcf) in Norway's oil reserves over the next 10 years. However, to get near this level, more discoveries will be needed, future offshore developments will have to be larger than outlined in current plans, and more measures will have to be taken to increase recovery.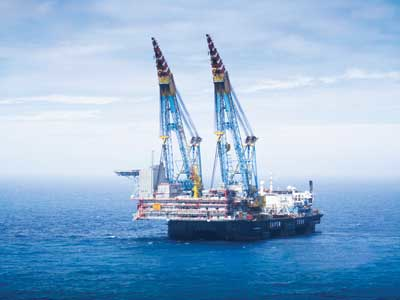 TheSaipem 7000 lifting the deck for Statoil's Gudrun platform in the North Sea last summer. Photo: Kjell-Arve Tysnes.
Between 1967 and the end of 2013 there have been over 400 discoveries across the Norwegian shelf, according to NPD's latest resource report. Half have either been developed or are undergoing development, while 24% are being considered for future development. But aside fromJohan Castberg in the Barents Sea and Johan Sverdrup in the North Sea, all other finds are in the marginal to mid-size range. Most of the smaller commercial fields could be developed via seabed solutions through established infrastructure. However, the report warns that drilling costs, which have more than doubled over the past decade, could threaten the viability of future projects.
One threat the report did not mention was the government's proposal last May that would increase tax on new Norwegian offshore projects. This prompted Statoil and partners to delay a final investment decision for Johan Castberg, presently comprising 400-600 MMboe from the Skrugard and Havis fields on license PL 532. The company has attempted to boost the reserves by drilling further prospects in the area, but so far only one – Skavl – has delivered commercial oil volumes. However, the partners should rubber-stamp their preferred concept later this year. Last year's proposal called for a large semisubmersible production platform connected to 38 subsea wells, with oil exported from storage caverns to a terminal in northern Norway via a 280-km (174-mi) subsea pipeline.
In February, Statoil announced the chosen concept for Phase 1 of the Johan Sverdrup development in the central Norwegian North Sea. This calls for four bridge-linked platforms and production of 315-380,000 boe/d, rising to 550,000-650,000 boe/d in a later phase. The field covers a large area – 180 sq km (69 sq mi) – and appraisal drilling continues to delineate new reserves, so more wellhead platforms and subsea installations will likely be needed to reach the targeted ouput. There is less certainty over the timing of a proposed offshore power network between Johan Sverdrup, Edvard Grieg, Ivar Aasen, and other fields in the Utsira High region, due to reported concern over the cost.
Later this year, Statoil should bring onstream Valemon, a complex HP/HT North Sea field, with a development cost of around NKr22 billion $3.66 billion. The 20-slot platform will be powered by an 11.5-km (7.1 mi) subsea cable from the Kvitebjorn platform which will also receive Valemon's produced condensate. Produced gas will be routed via the Huldra pipeline to the Heimdal complex.
Other fields due onstream this year include BG's FPSO-based Knarr ($1.5 billion) in the North Sea and Eni's Goliat, the first oilfield development in the Barents Sea, although construction issues could push this one back into 2015. The Barents Sea will again be the main focus for Norwegian exploration drilling, with Lundin and OMV hoping to build on last year's Gohta and Wisting discoveries, the northernmost to date in the Norwegian sector. The government hopes to boost exploration by awarding blocks in the previously off-limit southeastern part of the Barents Sea.
UK development on a high
Current investment in UK fields is at a record level, according to the industry association Oil & Gas UK. This is partly down to a series of tax breaks introduced by the government following lobbying by the operators, improving the economics of HP/HT and heavy-oil projects. Those that have benefited include EnQuest's recently launched Kraken and Xcite Energy's Bentley, both in the northern UK North Sea, and Chevron's Alder-Britannia subsea tieback in the central sector.
The new fields set to come onstream in 2014 will temporarily halt the decline in UK offshore production: EnQuest's Alma/Galia redevelopment and Ithaca's Greater Stella Area (both based around revamped FPSOs), Nexen's two-platform Golden Eagle Area, and BP's Kinnoul-Andrew tieback, all in the central North Sea; EOG's Conwy in the Irish Sea; and Premier's Solan west of Shetland. Total's Laggan/Tormore west of Shetland, the UK's first long-distance subsea-to-beach development, could also make it online before year-end, although the operator is thought to be considering alterations following some drilling results.
Other much larger projects are coming together in the Shetland area, but the cupboard is starting to look relatively bare around the latter part of the decade. UK offshore exploration drilling has plummeted, and the few wells that are being drilled have led to only modest additions to the reserves pool. Reasons include difficulties raising funds for rig hires and limited rig availability.


Click to Enlarge