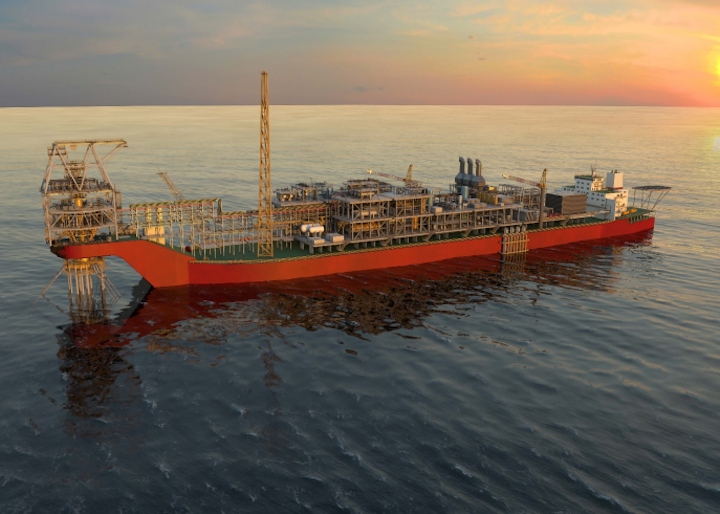 (Courtesy Woodside)
Offshore staff
PERTH, Australia – Woodside and its joint venture partners have approved Phase 1 of the Sangomar field development in the Sangomar Offshore and Sangomar Offshore Deep oil blocks off Senegal.
At the same time, Woodside has executed a purchase contract with MODEC for the FPSO and issued full notices to proceed for the drilling and subsea construction and installation contracts to Diamond Offshore and the Subsea Integration Alliance between Subsea 7 and OneSubsea.
MODEC, which performed front-end engineering design (FEED) for the FPSO last year, will deliver the vessel in early 2023. It will be moored at the field location around 100 km (62 mi) south of Dakar in 780 m (2,559 ft) water depth via an external turret mooring system supplied by MODEC subsidiary SOFEC.
The vessel will have an oil processing capability of 100,000 b/d, 130 MMcf/d gas processing, 145,000 b/d of water injection, and a minimum crude oil storage capacity of 1.3 MMbbl.
Diamond Offshore will supply the drillships Ocean BlackRhino and Ocean BlackHawk for the 23 subsea wells.
Subsea 7 said the contract to Subsea Integration Alliance was initially awarded in December 2018 subject to a final investment decision.
The scope covers engineering, procurement, construction, transportation and installation of the SURF system and associated subsea production systems.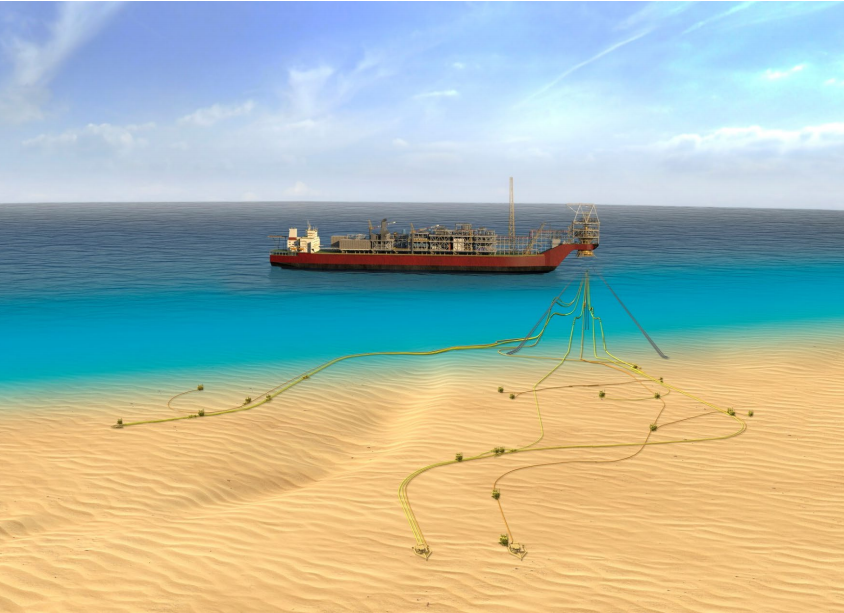 Conceptual image of the Sangomar Phase 1 development offshore Senegal.(Courtesy Woodside)

Sangomar's development will include 107 km (66.5 mi) of rigid flowlines, 28 km (17.4 mi) of flexible risers and jumpers, and 45 km (28 mi) of umbilicals in water depths ranging from 700-1,400 m (2,296-4,593 ft). Subsea 7 will perform offshore activities from using various reel-lay, flex-lay and light construction vessels.
The Subsea Integration Alliance team established during the FEED phase will now transition into the full EPIC phase based at Subsea 7's Global Projects Centre in Sutton, south of London.
This center and another in Suresnes, France, will manage SURF engineering. A base in Senegal will support the offshore campaign and will be used for site receipt testing and equipment storage.
Phase 1 is targeting around 231 MMbbl of oil from the field's lower, less complex reservoirs, with an initial pilot phase in the upper reservoirs.
Other partners are Capricorn Senegal, FAR, and Petrosen.
01/10/2020