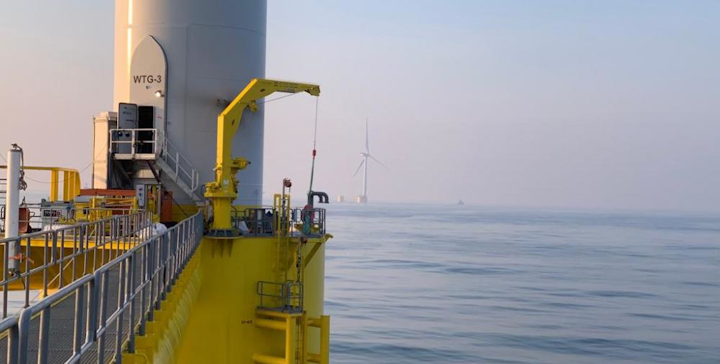 (Courtesy EDP Renewables)
Offshore staff
LISBON, Portugal – The WindFloat Atlantic wind farm is now operational offshore Portugal, according to the Windplus consortium.
After the energization of the 20-km (12-mi) cable connecting the offshore wind farm and the substation of Viana do Castello, the first of the three platforms was connected on Dec. 31.
The WindFloat Atlantic units – measuring 30 m (98 ft) in height and with a 50-m (164-ft) distance between columns – accommodate what is said to be the world's largest wind turbine installed on a floating structure of 8.4 MW.
The second WindFloat Atlantic platform recently reached its final destination.
The platforms are anchored with chains to the seabed at a depth of 100 m (328 ft).
The 25-MW WindFloat Atlantic project is expected to generate enough energy to supply the equivalent of 60,000 users each year.
The Windplus consortium comprises EDP Renewables (54.4%), Engie (25%), Repsol (19.4%) and Principle Power Inc. (1.2%).
01/02/2020