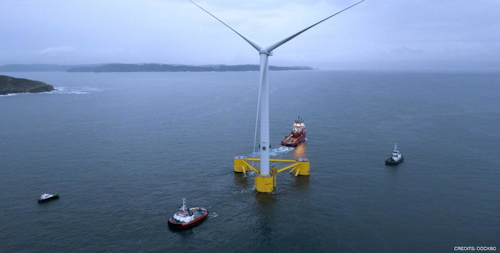 (Courtesy EDP Renováveis)
Offshore staff
LISBON, Portugal – The first WindFloat Atlantic platform with the turbine fully installed has departed from the Spanish Port of Ferrol for its final destination 20 km (12 mi) offshore Viana do Castelo, Portugal.
Once at the final location, the three floating structures – stretching 30 m (98 ft) in height and with a distance between each one of their columns of 50 m (164 ft) – will be installed to form the first floating wind farm in continental Europe. The platforms will be anchored with chains to the seabed at a depth of 100 m (328 ft).
The 25-MW installed capacity is expected to generate enough energy to supply the equivalent of 60,000 users each year.
The project is led by the Windplus consortium, comprising EDP Renewables (54.4%), Engie (25%), Repsol (19.4%), and Principle Power Inc. (1.2%).
The WindFloat Atlantic project builds on the success of the WindFloat1 prototype, which was in operation between 2011 and 2016. The 2-MW prototype generated energy uninterruptedly over five years, surviving extreme weather conditions, including waves up to 17 m (56 ft) tall and 60-knot winds.
10/21/2019