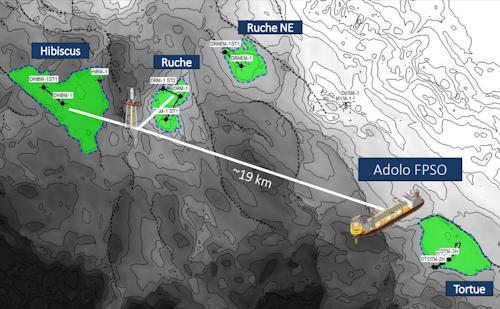 (Courtesy Panoro Energy)
Offshore staff
OSLO, Norway – Work is progressing on the Phase 2 development of the Tortue field in the Dussafu Marin concession offshore Gabon.
According to partner Panoro Energy, the first of the four new subsea horizontal oil developments well, DTM-4H, was spudded last month.
This and the DTM-4H 5H well should start production in 1Q 2020, followed by DTM-6H and DTM-7H in 2Q.
Once all six wells are producing at Tortue output should peak at 25,000 b/d.
Detailed planning continues for Phase 3, now known as Ruche Phase 1, and will involve construction and installation of a platform located between the Ruche and Hibiscus fields, four new producers at Hibiscus and two at Ruche, all drilled in the Gamba formation.
Ruche Phase 2 development will target additional discovered resources through up to seven producer wells, the aim being to maintain the production plateau.
Panoro estimates capex for the revised Ruche Phase 1, incorporating the Hibiscus development, at $445 million.
11/21/2019