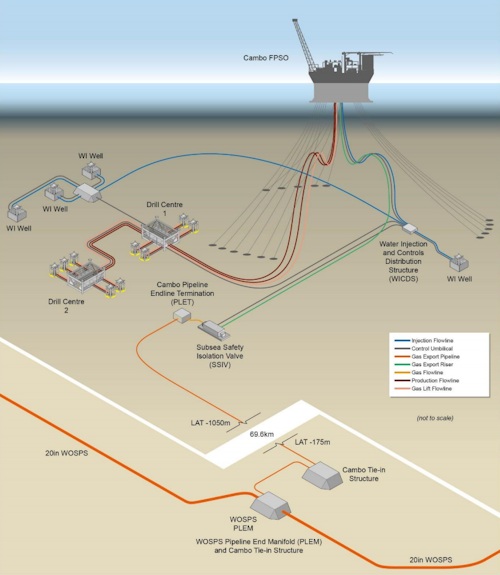 (Courtesy Siccar Point Energy)
Offshore staff
ABERDEEN, UK – Siccar Point Energy E&P (SPE) has submitted an application to Britain's Oil and Gas Authority to develop the deepwater Cambo oil and gas field 125 km (78 mi) west of Shetland.
SPE plans to use a moored, circular-shaped FPSO to produce hydrocarbons from two drill centers.
Oil will be exported via shuttle tanker while the gas will head though a new 70-km (43-mi) subsea pipeline that will connect to the West of Shetland Pipeline System via a pipeline end manifold tie-in. 
SPE aims to start offshore development activities at the field in 2020, with first drilling in 2021 and first oil in 2023.
Cambo extends across blocks 204/4a, 204/5a, 204/9a and 204/10a, in water depths of 1,050-1,100 m (3,445-3,609 ft), close to the median line with the Faroes.
Development will include eight new producer and four new water injector wells, and completion of last year's appraisal well as a producer.
Production is expected to last for around 25 years.
11/14/2019