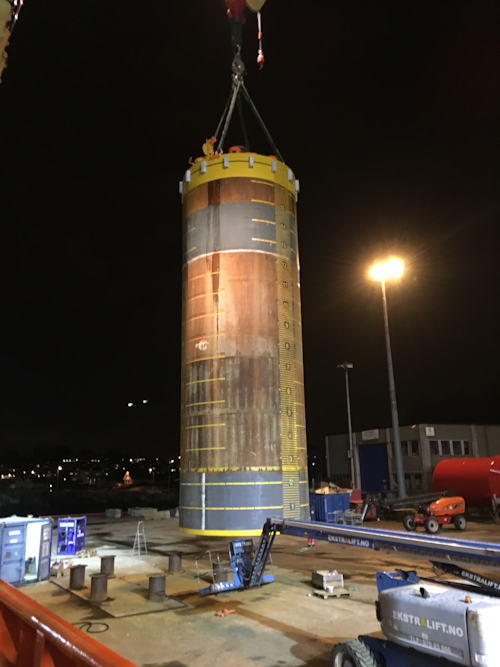 (Courtesy Neodrill)
Offshore staff
ABERDEEN, UK – Siccar Point Energy E&P has awarded Sembcorp Marine Rigs & Floaters a front-end engineering and design (FEED) contract for the Cambo oil and gas field development northwest of Shetland in UK waters.
The study will examine the potential application of a Sevan cylindrical FPSO, which Siccar Point and partner Shell selected after having considered an alternative FEED contracting option.
Amerada Hess discovered Cambo discovered in 2002 in 1,100 m (3,609 ft) of water, 125 km (78 mi) northwest of the Shetland Islands. Four appraisal wells followed over the next decade and new operator Siccar Point drilled and flow tested a final (and successful) well in summer 2018.
Last year Sembcorp Marine also acquired Sevan SSP, which has designed and delivered numerous cylindrical floaters to projects off northwest Europe and Brazil.
Sembcorp Marine has contracted KBR to undertake topsides design and integration support with the work to be performed in Singapore and Norway.
BHGE is managing the FEED for the wells, subsea and riser systems, and Genesis the work on a gas export pipeline.
Siccar Point has submitted a draft field development plan to the UK's Oil & Gas Authority and the partners will seek formal project sanction next year, following completion of the FEED activities. Shell acquired a 30% working interest stake in the field from Siccar Point in 2018.
In addition, Siccar Point has awarded Neodrill an optimization study concerning use of the latter's CAN-ductor for Cambo.
It follows last year's appraisal well, in which the system was used to provide a secure well foundation under soft seabed conditions in deepwater.
Neodrill developed a 32 x 20-in. CAN-ductor to suit the conditions, installed in a water depth of 1,082 m (3,550 ft), and a final inclination of 0.20°.
Colin Higgins, wells manager at Siccar Point, said: "The CAN provides great inertia to the operation. When the rig arrives on location it can wake up the transponders, run the 17½-in. assembly from the derrick and drill to approximately 840 m [2,756 ft] in the first 36 hours."
As the conductor is installed prior to rig arrival, it can cut rig time by two to four days per well, Neodrill claims, and its environmental impact is said to be up to 44% less than for a conventionally drilled well for top hole activity, with carbon-dioxide emissions reduced by at least 32%.
The Cambo study will review how to deliver the required load capacity for the lifetime of the production wells. Certain subsea production systems equipment will also be integrated into the CAN-ductor as part of the analysis.
08/29/2019