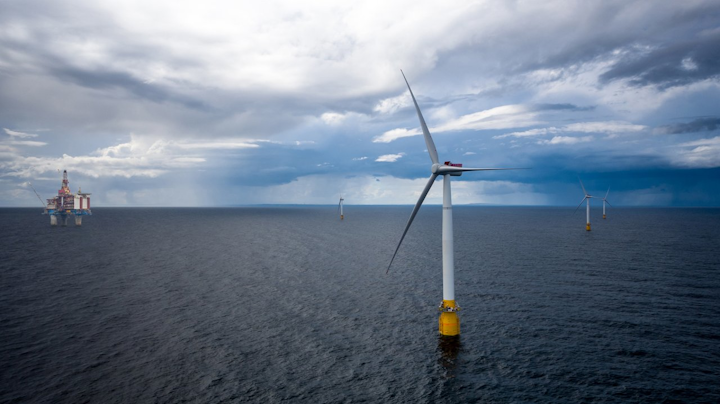 (Courtesy Equinor)
Offshore staff
HARTLEPOOL, UK – Equinor has awarded JDR Cable Systems a design/manufacturing contract for the Hywind Tampen wind farm project in the Norwegian North Sea.
The award covers eleven 66-kV dynamic inter-array cables and two static export cables, each equipped with a breakaway system and various cable accessories. Delivery is scheduled for 2022.
This will be the first application of a floating offshore wind farm to part-power offshore oil and gas platforms, in this case the Snorre A and B, Gullfaks A, B, and C facilities.
According to JDR, the cables present a challenge due to the high dynamic stress they will have to withstand.
Last year the company completed what it claims was the world's first application of dynamic 66-kV technology and breakaway system to the Windfloat Atlantic floating wind farm.
The Hywind Tampen project will feature 11 x 8-MW wind turbines, with the combined capacity of 88 MW, capable of satisfying 35% of the platforms' annual power needs.
These will be installed in water depths of 300 m (984 ft), deeper than any previous floating wind project, JDR said.
The 2.5-km (1.55-mi) long dynamic array cables will connect to the turbines in a loop, with the two static 12.9-km (8-mi) and 16-km (9.9-mi) export cables used to link the loop to Snorre A and Gullfaks A. Due to the water depth the cable accessories will be adapted to withstand higher water pressures.
Power cores for the cables will be manufactured by JDR's parent company TFKable at its Bydgoszcz factory in Poland. All the cables and accessories will be assembled at JDR's facilities in Hartlepool, northeast England.
11/14/2019