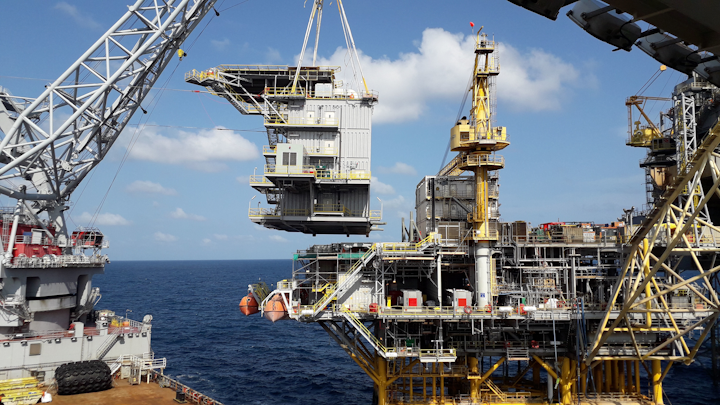 (Courtesy Lankhorst Ropes)
Offshore staff
SNEEK, the Netherlands – Lankhorst Ropes has provided slings to Seaway 7 for a heavy-lift operation for Shell's Dolphin platform accommodation upgrade project in the East Coast Marine Area offshore Trinidad and Tobago.
Shell commissioned a new permanent living quarter module weighing 1,007 metric tons (1,110 tons) comprising a control room, living quarters and helideck, and designed to facilitate a single-lift installation.
Lankhost supplied three Lankforce slings in different dimensions: one 520-metric ton (573-ton) MBL sling measured 104 m (341 ft) in length with a rope diameter of 64 mm; another had a 520-metric ton sling, 47.2 m (155 ft) long with a rope diameter of 76 mm, while the third sling employed 108-mm dia. rope, measured 46.1 m (151 ft), and had a load capacity of 1,300 metric tons (1,433 tons) MBL.
Length tolerances of +/-1% of nominal length were specified. Lankhorst, working with Precision Tension Solutions (PTS), achieved +/- 0.1% tolerance.
Variations in sling lengths lead to uneven load distribution, or skew loading, in the object to be lifted and can impact the structural integrity of the object lifted.
"With the slings for Seaway 7, we've shown that unprecedented levels of tolerance accuracy can now be achieved with fiber slings even where different diameter ropes are used to prepare the slings," said Wilco Stroet, Lankhorst's managing director.
Where excessive tolerance deviation was observed during testing, the company added, slings were re-spliced to achieve the smallest possible tolerance.
The slings were manufactured in Brazil, tested in Houston, and delivered on-site within a six-week time frame.
11/12/2019