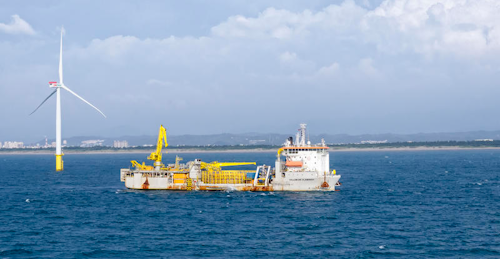 (Courtesy Jan De Nul)
Offshore staff
LUXEMBOURG – After four months of installation activities, Jan De Nul Group has completed the EPCI scope for foundations, power cables, and scour protection on the Formosa 1 Phase 2 offshore wind farm in Taiwan.
The company engineered, procured, and installed 20 offshore wind turbine foundations consisting of a monopile and transition piece with a grouted connection. Around the monopile foundations 56,000 metric tons of scour protection have been installed.
The monopiles range from 752 to 1,230 metric tons with a maximum diameter of 8.4 m (28 ft) and a length ranging from 60.1 to 79.5 m (197 to 261 ft). The transition pieces weigh 465 metric tons and consists of five internal platforms, an external platform, and boat landing.
Also, 17 inter array cables and three subsea export cables of 33kV were designed, procured, installed, buried, terminated, and tested. On land, the connection with the substation was made through 12 km (7.5 mi) of land power cables.
In addition to using  the Port of Taichung as a marshalling harbor, the company said it used the local supply chain for quarried rock production, rock load-out operations, storage and transport of the foundation structures, beach pull assistance works, dive support supply, various support vessels, installation of transition joint bays, HDD ducts, land cables installation, and many other minor services.
The wind farm is owned by Formosa 1 Wind Power Co. Ltd., a partnership of Ørsted (35%), JERA (32.5%), Macquarie Capital (25%), and Swancor Holding (7.5%).
Formosa 1 is located around 6 km (4 mi) off the west coast of the Miaoli district in the Taiwan Strait, with water depths ranging between 15 and 30 m (49 and 98 ft).
Phase 2 added 20 offshore wind turbines with a total capacity of 120 MW to Formosa 1's current 8 MW capacity.
Formosa 1 is the first commercial-scale offshore wind farm in Taiwan before 2020.
10/29/2019