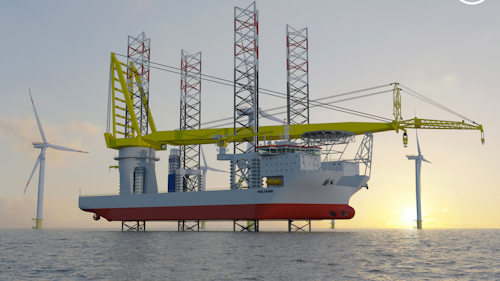 Jan De Nul Group
Offshore staff
LUXEMBOURG – Jan De Nul Group has commissioned COSCO Shipping Heavy Industry in China to build the Voltaire, its third offshore jackup installation vessel.
The Voltaire is specifically designed to transport, lift, and install offshore wind turbines, transition pieces, and foundations. The company added that it will also be deployable for the oil and gas industry, and for decommissioning of offshore structures.
Key features include a main crane of more than 3,000 metric tons, an operating depth of approximately 80 m (262 ft), a payload of about 14,000 metric tons, and accommodation for 100 persons. The vessel will have four legs and be equipped with a DP-2 system.
Compared to the company's two other jackup vessels, the Vole au vent and the Taillevent, this new vessel has almost double the deck space (7,000 sq m or 75,347 sq ft). According the Jan De Nul, the larger deck space will also enable it to optimize installations at sea and to lower the fuel consumption and emissions.
The company said it designed the vessel to run on gasoil but fitted with an advanced exhaust gas filtering system by means of a selective catalytic reduction system and a diesel particulate filter.
The vessel is named after the French writer, historian and philosopher François-Marie Arouet, known by his pseudonym Voltaire and as an icon of the European Enlightenment of the 18th century.
The Voltaire is set to be delivered in 2022.
Knud E. Hansen provided design review and contributed to the tender design package. The company said it provided the midship section and design of the three-chorded truss work legs, jacking frames, leg wells and the main crane pedestal as well as global and local FEM strength calculations of the hull, legs, and jacking frames.
05/29/2019