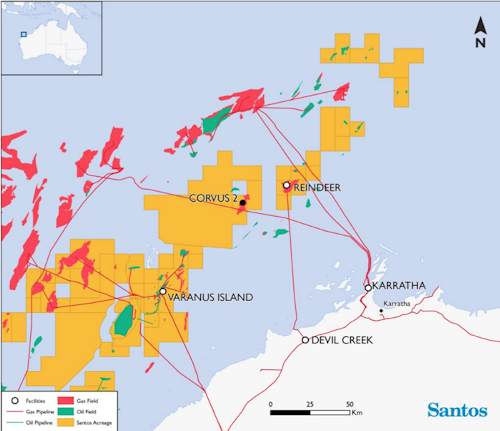 Offshore staff
ADELAIDE, Australia – Santos says appraisal drilling of the Corvus field offshore Western Australia has confirmed a significant gas resource.
ThejackupNoble Tom Prosser drilled the Corvus-2 well in 63 m (207 ft) of water in the WA-45-R permit in the Carnarvon basin, 90 km (56 mi) northwest of Dampier, to a TD of 3,998 m (13,117 ft).
Highlights of the well included a 638-m (2,093-ft) gross interval, one of the largest columns ever discovered on the North West Shelf, the company claimed.
Wireline logging has so far revealed 245 m (804 ft) of net hydrocarbon pay across the North Rankin and Mungaroo formations, at depths between 3,360 and 3,998 m (11,023 and 13,117 ft).
Drilling also encountered higher permeability zones than in the 2000 discovery well Corvus-1, 3 km (2 mi) to the northeast, and a higher condensate-gas ratio of up to 10 bbl/MMcf, with a similar CO2 content of 7%. 
Santos managing director and CEO Kevin Gallagher said: "Corvus-2 has delivered a fantastic result and has opened up a number of additional exploration opportunities in the region.
"It is particularly exciting to have realized a higher liquids content and significantly bigger resource volume than we expected.
"Corvus could be tied back to either our Devil Creek or Varanus Island gas plants, where it has the potential to increase the utilization of our existing facilities as well as provide backfill and extend plateau well into the 2030s."
After P&A'ing Corvus-2, the rig will move north to start appraisal drilling of theDorado oil discovery. Santos gained control of both discoveries through its acquisition last year of Quadrant Energy.
Wood Mackenzie senior analyst Daniel Toleman said: "Based on limited information, our initial estimate is a 2.5 tcf gas and 25 MMbbl condensate resource. This will be the largest gas discovery in the Carnarvon basin since the Satyr-4 exploration well drilled by Chevron in 2009…
"The field is near toSantos' Reindeer development and if the resource comes in over 2 tcf, we believe Santos will explore opportunities to export the gas as LNG. This is due to Corvus' proximity to the Burrup Peninsula, and a well-supplied domestic market in the short to medium term.
"The North West Shelf has LNG production capacity available from 2021. The Corvus discovery could fill this ullage. If an LNG backfill development is to progress, we expect Santos will look to sell down, as it currently holds 100% in the find."
04/16/2019