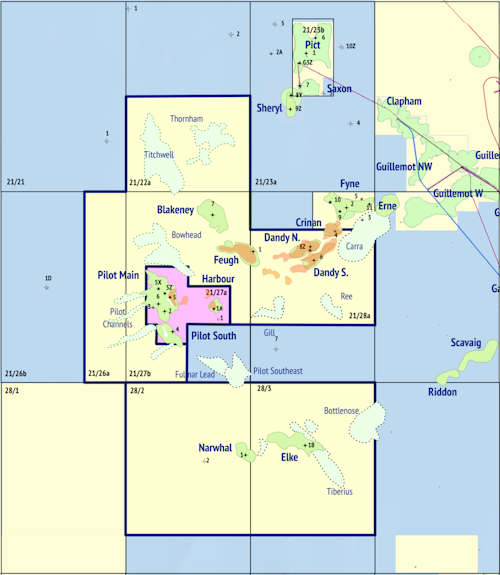 (Map courtesy Pharis Energy)
Offshore staff
WINCHESTER, UK – Pharis Energy has contracted Crondall Energy to perform a concept select study for the heavy-oil Pilot field development in the UK central North Sea.
Pharis is aiming to become the first operator to apply steam flooding in a major offshore project, and this is one of the concepts Crondall will examine.
The study will cover a range of development approaches for Pilot and includes the facilities, marine and subsea scope.
Crondall's team will develop and assess facilities and subsea configurations and various oil separation and artificial lift technologies in order to devise an optimum solution for the development.
Pilot, in block 21/27a, holds estimated in-place proven plus probable oil of 230 MMbbl.
Pharis believes that 113 MMbbl could be recovered with a steam flood, as opposed to around 60 MMbbl via a more conventional waterflood scenario.
Crondall previously reviewed the capex costs for the project.
Fina discovered Pilot in 1989, and the field has since been appraised with seven reservoir penetrations, including a test that flowed more than 1,800 b/d from a short horizontal well.
09/12/2019