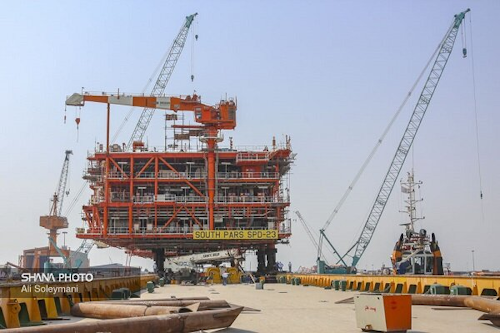 (Courtesy Shana)
Offshore staff
TEHRAN, Iran – The third platform for phases 22 to 24 of the South Pars gas field in the Persian Gulf was loaded out last week at the SADRA yard in Bushehr.
Pars Oil and Gas Co.'s Ali Asghar Sadeghi, deputy head of the project, told news service Shana that the 2,500-ton structure – assigned to Phase 23 – was loaded onto the FLB124 barge via the pull-push method.
The platform, which is designed to produce up to 500 MMcf/d of gas, will be installed at its offshore location using an HL 5000 barge.
Once operational, it should raise phases 22-24 production capacity to 42 MMcm/d.
Construction of the final platform for this project is currently 77.94% complete, and the facility will be prepared for loading in the near future.
08/19/2019